Popular places in Namibia
Namib Desert Area
Sesreim & Sossusvlei


Namib Desert


Sossusvlei Camping
& Self Catering


Naukluft


Solitaire
Etosha National Park


Etosha Lodges &
Hotels


Etosha Camping &
Self Catering
Fish River Canyon


Fish River Canyon


Aus


Ai Ais


Hobas
Accommodation Guide
Places to stay around Namibia
South Namibia


Grunau


Noordoewer


Naukluft


Keetmanshoop


Karasburg


Maltahohe


Aus


Luderitz


Fish River Canyon


Rosh Pinah
Central Namibia


Windhoek


Okahandja


Otjiwarongo


Brandberg


Waterberg


Damaraland


Buitepos


Gobabis


Mariental


Omaruru


Usakos


Rehoboth
Northern Namibia
North-west


Opuwo


Palmwag


Kaokoland (Himba)


Brandberg


Twyfelfontein


Ruacana
Caprivi North-east


Katima Mulilo


Rundu


Caprivi Strip
Etosha North-central


Etosha Park


Tsumeb


Otavi


Grootfontein
Coastal Namibia


Luderitz


Swakopmund


Walvis Bay


Henties Bay
Namibia Guided Safaris

3 day sosussvlei safari


3 day Etosha safari


6 day Etosha sossusvlei


7 day North safari


7 day South Safari


8 day Delta Vic Falls


10 day Namibia explorer


10 day classic Namibia


12 day Namibia safari

13 day Family adventure


14 day delta and dunes


14 day Namibian explorer


18 day combo safari


African Odyeesy Safari

Namibia Essential
Travel Information

Getting to Namibia


Weather in Namibia


Map of Namibia


Namibian Flag


Currency of Namibia


Time in Namibia


Languages in Namibia


Electricity in Namibia


Visas in Namibia


History & Culture


Namibia Photo Gallery
Useful Information
Travel Guide to
Travel Resources
» Namibia
Namibia
Land of Contrast
Namibia is a land of beautiful contrasts with its abundant and adaptive wildlife, dramatic pristine remote landscapes, friendly people and amazing diversity. Namibia is a large country 824, 269 square kilometres (approx four times the size of the UK) but Namibia only has a population of 1.83 million people, this makes Namibia one of the most sparsely populated countries in the world. Namibia is a wonderful destination in itself and can be easily combined with a trip to South Africa, Victoria Falls or Botswana.
Click on the map of Namibia to find out more and accommodation choices
or read on to find out about the holiday highlights of Namibia: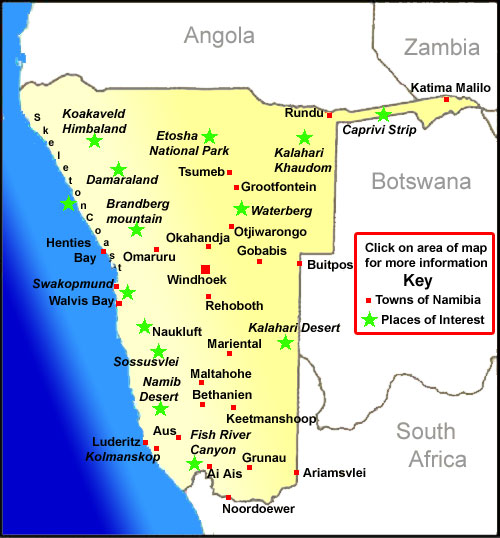 Namibia's Holiday Highlights
Etosha National Park - Namibia

Etosha National Park is one of the first places you will want to include on your holiday to Namibia. At a staggering 22,270 square kilometers, it is one of the largest National Parks in Africa.

» Large salt pan and many watering holes for great game viewing
» Over 380 species of birds, 114 mammals and 110 reptiles
» World famous for its exceptionally good plains game
» Variety of ecology from salt pan to woodlands with many species
» Accommodation in Etosha includes: luxury lodges, camping, and self catering
» night game drives, and bush walks

Read more about Etosha National Park in Namibia
Sossusvlei & the Namib Desert

The Namib Naukluft Park is the central part of The Namib Desert. Sossusvlei, Sesreim Canyon.

Sossusvlei's uniqueness, make it one of the most popular ' must sees' on any itinerary to Namibia. At 325m Sossusvlei's dunes are the amongst the highest in the world.

» Experience the spectacular sunrises in the Namib Dunes when the dunes turn dramatically red
» Discover fascinating desert adapted animals, plants and insects
» Visit Sesreim Canyon where centuries of erosion has eroded a narrow gorge with pools that fills with water after good rains
» Take a Hot Air Balloon trip for a birds eye view of Sossusvlei Dunes
» Accommodation around Sesreim is available in Lodges Camping and Self catering

Read more about Sossusvlei and the Namib Naukluft Park
Swakopmund - Namibia

Swakopmund's temperate climate offers respite from the searing heat of the desert. Completely different from the rest of the Namibia, it allows you to indulge in a variety of ocean activities and adventures.

» Superb birdwatching at Sandwich Harbour and Walvis Bay
» Desert and dune excursions, filled with flora & fauna
» Adventure activities & outdoor pursuits for adrenalin junkies
» Visit Skeleton Coast, named after all the ship wrecks
» Sea tours, fishing and diving – see dolphins, seals & whales

Read more about Swakopmund in Namibia
Damaraland - Namibia

Damaraland is a spectacular self drive destination. Sandwiched between the Skeleton Coast in the West and the Etosha National Park in the north east of Namibia it has a variety of places to see and activities to do.

» Discover the spectacular rock engravings at Twyfelfontein
» Brandberg is Namibia's highest mountain at 2 573 metres
» Track the Desert Elephant and Rare Desert Black Rhino
» See one of the richest collections of rock art in the world
» Visit the Petrified Forest with trees over 200 million years old

Read more about Damaraland in Namibia
Windhoek - Capital City of Namibia

With all the modern conveniences of a city, Windhoek usually marks the start of any trip to Namibia. With its international airport most holidays to Namibia start and end in Windhoek.

» Windhoek is full of historical neo-Gothic and art nouveau buildings
» Buy from street-side vendors selling handmade arts and crafts
» Spend time at the museums of history, natural sciences, and transport
» Take a walk down Windhoek's Independence Avenue
» Theatres, galleries and monuments
» Daan Vil Joen game park within 30 minutes from the centre of town.

Read more about Windhoek, capital city of Namibia
Luderitz and Kolmanskop

Stay at comfortable hotels and totally escape from the outside world in Luderitz. Take desert excursions to Kolmanskop including the wild horses of Aus.

» Take an ocean excursion to penguin and seal colonies
» Sail the bay and the archipelago and discover the bounty of the Atlantic Ocean
» Drive along the peninsula for some pretty dramatic scenery
» Photograph the Ghost towns of Kolmanskop and Elizabeth Bay relics of the diamond- era history
» Explore the Sperregbiet (Forbidden Zone) on a guided off road adventure
» Photgraph Neo Gothic architecture, museums, and restored mansions
» Luderitz is the Rock Lobster capital of Namibia – taste this delicacy at any number of fantastic seafood restaurants

Read more about Luderitz Namibia
Waterberg Plateau - Namibia

Waterberg Plateau area is most famous home to Okonjima Lodge and the AfriCat Foundation. The work being done here is ground breaking and ensures reintroduction into the wild of some of Namibia's predators.

» Okonjima lodge – Main Camp, Bush Camp, Private Villa, and Bush Suite – arguably the finest accommodation in the area.
» AfriCat and CCF big cat rehabilitation sanctuaries
» See cheetah in full gallop and track leopard on foot
» Overnight walking trails in the Waterberg Plateau National Park with many rare species in unusually close proximity to each other
» Visit Lake Otjikoto near Tsumeb where the retreating German forces dumped their armaments in 1915
» Private game reserves with charming guesthouses
» Stop off at Okahandja to buy curios and wooden carvings from the Kavango Craftsmen

Read more about Waterberg Plateau Namibia
Caprivi Strip

Escape the crowds in the remote and awe-inspiring Caprivi Strip in the north east corner of Namibia. With its woodlands, rivers and swamps, The Caprivi Strip is unlike any other part of Namibia and is usually a complete surprise for the first time visitor!

» See Elephant, buffalo, hippo and other wetlands species
» Over 400 species of birds, both wetland & passerine species
» National Parks everywhere - Kavango, Khaudaum Game Park, Popa Falls, Mamili National Park and Mahango Game Parks
» Okavango, Chobe & Linyanti, and Vic Falls all a day-trip away

Read more about the Caprivi Strip in Namibia
The Himba people and the Kaokoland

Not a fence in sight and barely any sign of civilisation, Kaokoland is a true wilderness area. The Kaokoveld is a rugged wilderness for the intrepid adventurer, accessible only by 4 wheel drive or light air craft. This part of Namibia is home to the Himba people and their traditional nomadic lifestyle.

» Learn about the desert elephant and the world's only free-roaming black rhino
» See hardy drought resistant wildlife and interesting plants
» Experience camping in the wild on a self-sufficient expedition
» The Kunene River and Epupa Falls are well known Kaokoland attractions
» Stay at luxury lodges in ridiculously enchanting settings
» Purros is a semi permanent Himba settlement where you can visit and see their traditional way of life.

Read more about Kaokoland and the Himba People of Namibia

Namibia Wildlife Resorts Information on: Ai Ais, Daan Viljoen, Duwisib Castle, Etosha, Fish River Canyon, Gross Barman, Halali, Hardap, Hobas, Khorixas, Namatoni, Naukluft, Okaukuejo, Onkoshi, Popa Falls, Rehoboth Spa, Sesriem, Shark Island, Skeleton Coast, Sossus Dune Camp, Terrace Bay, Torra Bay, Von Bach Dam, Waterberg, West Coast Park.
Hotels in Namibia Towns:
Aus - Brandberg - Etosha - Gobabis - Gochas - Grootfontein - Granau - Hardap - Helmeringhausen - Henties Bay - Kamanjab - Karabib - Katima Mulilo - Keetmanshoop - Khorixas - Kolmanskop - Maltahohe - Mariental - Naukluft - Noordoewer - Okahandja - Omaruru - Opuwo - Oshakati - Otavi - Otjiwarongo - Outjo - Palmwag - Rehoboth - Rosh Pinah - Rundu - Seeheim - Sesfontein - Skeleton Coast - Solitaire - Tsumeb - Tsumkwe - Usakos - Walvis Bay - Waterberg - Windhoek
Namibia undoubtedly has some of the most pristine, remote and dramatic landscapes in Africa. First impressions of Namibia are usually of a hot and somewhat harsh land, but you will soon find Namibia is an enchanting country full of life in the most unexpected areas.