Situated 30km North of Windhoek, the rolling plains and bush savannah afoot the Otjihavera mountains are stage for Okapuka's scene of ancient Africa.

21 Thatch roof luxury rooms and a suite are blending in with the colours of the land, while another 4 rooms at the Mountain Lodge provide for a breathtaking view of the wilderness around.

At the award-winning winecellar, or at The Hyena Bar, carved from wood of the camel thorn tree, you will find a distinct range of wines and beverages complementing the international delicacies and local game specialities on offer at the Park Restaurant.
Activities like game drives, lion feedings, mountain drives, hiking, horseback riding and helicopter flips allow you to explore the mystic of the unspoiled African bush.
Comfort, style and a glorious view ...
Blending in with the surrounding bush, was the main focus of 18 thatch roofed rooms, set along the edge of the park, while spacious comfort was another.
Equipped with ensuite bathroom/ toilet, telephone, coffee making facilities, bar fridge and open terrace, the rooms provide just that.
Adorned with individual wall paintings of the renowned local artist "Von Aschenborn", and laid out with carpets, woven from the wool of the locally bred Karakul sheep, they reflect the "grandeur" of times long gone by.
Additional rooms are situated at the Mountain lodge. Cane furniture and balcony are rendering comfort combined with a spectacular view of the landscape below, gently rolling towards the horizon.
Game Drive (Minimum of 4 persons, approx. 1,5 hours) - Enjoy game spotting from our open vehicles
Lion Feeding (Minimum of 4 persons, approx. 0,5 hours) - A thrilling attraction from close up
Distant Mountain Drive (Minimum of 4 persons, approx. 6 hours, picnic inclusive) - Go places, where eagles dare ...
Regular Mountain Drive (Minimum of 4 persons, approx. 3 hours) - A scenery not to be missed
Sunset Drive (Minimum of 4 persons, approx. 1 hour) - A "sundowner" with a view
Conferences ... for business or for celebrations ... a variety of venues is available on request
The conference room, as part of the Mountain Lodge, is equipped with air condition and offers general conference/ presentation equipment (VCR, TV, White screen, OHP, Flipchart) for groups up to 30 Persons.
Transfers
Transfers between Okapuka, Windhoek and the International Airport are offered on a flexible and individual basis.
Okapuka Ranch offers special group- and conference packages as well as children rates on request.
Some Tours can be conducted for groups up to 90 persons.
Park Restaurant... separated from the Hyeana Lounge by a water- & rock cascade, the Park Restaurant offers a variety of specialties; unusual local game dishes, creative starters and naughty desserts - all prepared with the particular touch of the settlers' cooking philosophy, and as such, according to recipes handed down from generation to generation.
The cozy, candle-lit athmosphere is enhanced by the open fire place and the dreamlike view of antelope peacefully grazing ....
The Hyena Lounge and Bar... carved from the wood of the Camel thron tree and located along the edge of a huge thatch roof dome, the Hyena Bar offers a noble range of ancient sherries, divine brandies and selected wines.
It is pleasure pure, to sit and watch the bush rising towards the mountains, while enjoying a favourite drink - to get together prior to a meal, or afterwards, or simply to relax and enjoy the scenerey at any time.
The Wine Cellar
Hidden among the formations of the "Lion's rock" lies Okapuka Ranch's "Wine Cellar" ...
True to the spirit of the ancient monks and forefathers of wine making, this cellar's architecture features the finest details, reflecting long time forgotten syles and philosophies, combined however, in today's interest, with modern, "state of the art" controlling systems...
Not only for those, who adore "wine in their prayers" ...
A selection for everyone - from top estate blends and single cultivars to excellent table wines - to complement a meal, or to be enjoyed on its' own, with a "good story to tell" - from fresh, crisp, young wines to elegant, velvety-soft and powerful characters, from modern styles to old world aristocracy - honoring what has been, as well as what is still to come.
A cradle for "wine lovers" .... - but this is a story to be told some other time ...
Features of Okapuka Lodge
· Superb Restaurant
· Rustic Wine Cellar
· Conference Facilities
· Swimming Pool
· Tennis Courts
Some ideas of what to do at Okapuka Lodge
· Have something to eat at the Restaurant
· Have some drinks at the Bar
· Enjoy the abundance of Wildlife
· Game Drives
· Lion Feedings
· Hiking Trails
· Horse back Riding
· Relax at the Swimming Pool
· Enjoy a game of Tennis
· Mountain Drives
· Helicopter Flights
Where is Okapuka Lodge?
30km North of Windhoek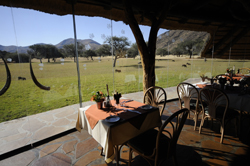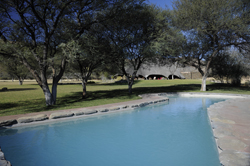 Email Okapuka Ranch Lodge enquiries and reservations: booknamibia@madbookings.com