Our hotel has been in the hands of the Anton Family since 1965, and has established itself as one of Swakopmund's best Hotels.

We have become the obvious choice of Tourist from abroad, the RSA and Namibia alike. Our Hotel has also been rewarded with the "Best Hotel 50 rooms or less" award for 4 consecutive years.
The Hotel is situated in the heart of Swakopmund and only 5 minutes walk from the main beach area. The view is spectacular. situated in Swakopmund, on the edge of the Namib desert.
When on holiday in Swakopmund, and staying with us, you would find that Swakopmund, with its German character has much to offer the visitor, to name but a few . . . Angling, surfing, dune boarding, skydiving, lazing the days away in the sun, go horse riding or camel riding and more. Ask at our reception for more detail and directions.
Nestled at the mouth of the Swakop River, with the Namib Desert on the one side and the Atlantic Ocean on the other side, Swakopmund boast with surprisingly mild weather.
The average temperature range between 15 to 25 degrees Celsius. Rainfall is less than 15mm per year. The cold Benguela current supply moisture for the area in the form of fog, that can reach as deep as 140km inland. The fauna and flora of the area has adapted to this and very much rely on the fog as a source of moisture..
We offer comfortable, spacious rooms such as Standard, Luxury or De Luxe rooms and different suites. Each room is equipped with a private bathroom, telephone and television.
Café Anton
We boast with Namibia's most famous coffee shop. Café Anton, with its traditional German confectionary, such as the Black Forest Cream Cake, Florentiners, "Bee Sting" and
lots of other cakes.
Enjoy the sun and fresh sea air while we spoil you with freshly brewed coffee, tea or other drinks of your choice on our terrace or come on inside for a more warm and cozy environment.
Features of Hotel Schweizerhaus
For your convenience we also provide a room and laundry service,
and there is access for handicapped people.
We accept the following credit cards: Visa, Master Card, American Express, Diners Card
One day laundry and ironing service
Room service
Baby sitting
Safes available for your valuables.
More delights to offer, are our delicious á la Carte lunch and a healthy breakfast.
Group Dinners can be arranged for 15 Persons and more, please contact reception for details.
Relax in our cosy lounge or enjoy a drink in the company of other
guests in our private bar "The Captain's Bar".
Some ideas of what to do at Hotel Schweizerhaus
To name but a few, Tennis (Tennis courts 3 minute walk from hotel) squash, golf, gliding, horse riding, fishing, parachuting, swimming and a lot more adventure awaits you.
We can also arrange professional guided desert tours and transport to and from local travel terminals.
Township
Tours Ski boat
Angling Balloon
Rides
Skydiving Stand-up
Sand boarding Lie-down
Sand boarding Quad bike
Tours
Where is Hotel Schweizerhaus?
Our hotel is situated in Bismarck Street, only 2 to 3 minutes easy walking away
from the main beach area. If you prefer shopping you are also about 5 minutes easy
walking away from the central business area and the town's magnificent historical
buildings with there German Architecture. While in Swakopmund there is also
various activities to keep you busy and turn your vacation into a memorable one.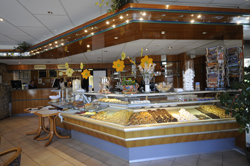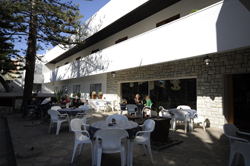 Email Hotel Schweizerhaus enquiries and reservations: booknamibia@madbookings.com