Our hotel occupies a historic building "Villa Wille" and was build in 1910 by Herman Wille.

The building's exterior appearance remained unchanged and the rooms still have original stucco-work since then to admire.

We proudly converted this stately mansion into a remarkable hotel of distinctive character.
Eberwein Hotel Accommodation
There are 17 tastefully elegant rooms partially decorated in the victorian style, which quickly allow you to relax and slip out of the daily grind.
All rooms are equipped to the highest standard and have TV, Telephone Lines, Hair dryer Facilities, Coffee Machines and a Mini-bar, and Central Heating should the temperature drop too low.
Our Rooms:
Our rooms are furnished in the Victorian style. Even the stucco ceilings, windows and doors of the original structure have been preserved. Altogether, we have 16 double-bed rooms and one single-bed rooms, each of which are individually designed and come either with a bath or shower cabin. All rooms are also equipped with a television, telephone, mini bar and hairdryer to allow our guests to enjoy their stay in maximum comfort. The under-floor heating will ensure that the rooms remain cozy and warm on cold Swakopmund days.
Our Suites:
Our honeymoon and VIP suites offer you luxury in a distinguished manner. We have furnished these rooms with much love and our team is at your service for any special request.
May we recommend our "Honey Moon Suite" and our V.I.P Suites with special furnishing and service for any special event. We have considered every aspect of your holiday and are eagerly awaiting your arrival at Hotel Eberwein in Swakopmund.
Eberwein Hotel Facilities
Breakfast
We offer a sumptuous breakfast buffet with everything to fulfill your desires.
Our Lounge
We have a charming Lounge with cozy bay windows. Indulge yourself with select South African vintages and local beer from the tap.
Our cosy lounge offers a bay and Bar where exquisite South African wines are served.
Although we only serve breakfast, we can advise on the Restaurants in town. Hotel Eberwein offers underground parking and is within five minutes walk from the central town shopping centre and fifteen minutes walk from beach.
Our All-Round Service
Is having a great meal important? Sure, for us too. We are happy to recommend to you a restaurant of your taste and preferences. Up for an adventure? No problem. Our multilingual personnel will be glad to help you organize any outdoor trips or excursions. From a day trip to the coast, a trip to the Dunes or to the famous Welwithschias, we can make it all possible.
Parking
Our underground parking garage will ensure the safety of your vehicle.

Some ideas of what to do at Eberwein Hotel
· Have some South African Wines at the Bar
· 5 Minutes walk from Swakopmund Town Centre
· 15 Minutes walk from the Beach
Where is Eberwein Hotel?
In Swakopmund on the corner of Sam Nujoma Avenue and Kaiser-Wilhelm Street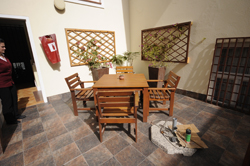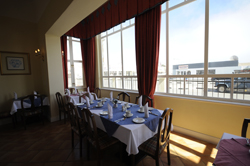 Email Hotel Eberwein enquiries and reservations: booknamibia@madbookings.com