Be captivated by the extraordinary beauty and uniqueness of the Namib Desert and the West Coast of Namibia, while you have a heart-warming stay at the Fischreiher Guesthouse in Swakopmund.

We offer seven neat en-suites, exquisitely furnished double rooms. There are five twins and two double beds.
There are two family units. Desert and marine tours with qualified guides can be arranged from our doorstep.
We are within walking distance from the sea and ten minutes' drive from the town centre. Come and enjoy an excellent breakfast and spontaneous hospitality!
Fischreiher Guesthouse Accommodation
The flamingo found around here is the lesser flamingo, one of 6 general species or groups found all over the world. There distinctive pink colour comes from the shellfish and shrimps that they feed on.

The Pelican is a very large seabird with a distinctive pouch underneath its beak. Pelicans can grow to a wingspan of 3 meters and can weight up to 13kg.
Pelicans normally feed in groups and are fish-eaters.

The cormorant is a medium to large seabird with dark plumage and their feet are four-toed and webbed, a distinguished feature of these birds.
They are all fish eaters and can dive up to 45 meters and are good swimmers.

The fischreiher, a large bird that would sometimes be seen stalking its prey or wait motionless to spear its prey with it's long sharp beak.
They nest in trees and are conspicuous specie usually easily seen or recognized.

The Damara Tern, a small bird with a black head and pale grey back, breeds on the gravel planes of our coast. Various ways of protecting these interesting little birds has been put into place.
Some ideas of what to do at Fischreiher Guesthouse
| | | |
| --- | --- | --- |
| Walking | Relaxing | Sunbathing |


Email Fischreiher Guesthouse enquiries and reservations: booknamibia@madbookings.com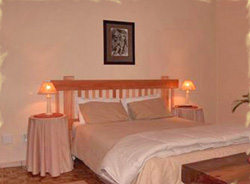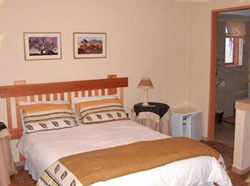 Directions to Fischreiher Guesthouse:
Arriving from the north (Uis, Henties Bay, Brandberg etc), turn right into Dr Schwettering Street, then turn into the second street on your left, fischreiher street, follow the road until you see Guesthouse Fischreiher on your left. Arriving from Windhoek, drive into town and turn right at the first traffic light (shoprite centre) follow this road until you get a traffic circle, turn left into Vrede Rede Street.
Follow Vrede Rede str up to the T-Junction, turn right into fischreiher street and drive until you see Guesthouse Fischreiher on your right hand side. Arriving from Walvis Bay, turn right into the first street on your right, follow the road up to shoprite and from there the same route as arriving from Windhoek.