'Early mist on a bed of silver,
You will find us on the banks of the mighty Okavango River
Across, Angola to the east Caprivi To the west………
Golden sunsets, where earth and sky would meet
Where the sounds and sights of nature touch the senses and break down all human fences'

Captivated by the river and the people whose history and lives are intertwined with it, Tino and Karin Punzul spent the next four years turning their dream of a lodge in the Kavango region into a reality.
Working with local craftsman, they build the lodge from the ground up.
The traditional owners of the land and the community have shared in the process and will share in the future of the lodge's proceeds.
As owners and your hosts at River Dance, Tino and Karin share their passion for the magic of the river, their knowledge of the bush, and the spirit of generosity, an essential part of life in Namibia, with their guests.
Their passion for River Dance is contagious, and their years of hard work and waiting for their dream to come true means that you don't have to. River Dance is yours to experience today!
Peace and privacy are at the heart of RiverDance and its stunning, architecturally designed wooden and glass rooms. Nestled amongst hundreds of trees, spacious water front units are tastefully decorated with local linens, extra length beds and your choice of pillows for a most relaxing sleep.
Private walkways lead to your own luxurious bathroom fitted with a bath & shower, biodegradable toiletries and plush bathrobes and towels. While reclining on the deck or soaking in the deep bath, the call of birds, frogs and little creatures that we came to love, will serve as background music.
Deliciously prepared Namibian cuisine and only the best cuts of meat are served with locally sourced seasonal ingredients. You will be welcomed with song and dance and be wished a good rest by the kind people of the Kavango. Special dietary requirements are also catered for. We have our own orchard, a greenhouse, a supply of goat's milk cheese, freshly caught fish, honey, wild fruits, roasted nuts, wild spinach, mahango and eggs which add to the luxury of life along the river.
Camping is our passion. Our exclusive camping sites offer privacy, a view and access to the river, and your own ablution facilities. You are welcome to order a warm homebaked loaf of bread or pizza fresh from our oven. You will have access to a wooden deck separate from the lodge… something we always missed as campers.
Activities at RiverDance
FISHING and BOAT CRUISES
The Okavango River with its 71 fish species attracts anglers from all over the world. Popular catches include tiger fish, bream, barbel, pike, and squeaker. Fishing on the Okavango is done either from the riverbanks or from small fishing boats. Guests are also welcome to join us for an unforgettable cruise on the mighty Okavango River to experience a sunrise or sunset you will never forget.
Children will find the local game 'kakoijo' fun to join in!
Birds and wildlife
RiverDance is part of an area known internationally as a bird-watcher's paradise. The area and particularly the riverine habitat is considered one of Southern Africa's top birding spots. Be on the lookout for the chinspot batis, swallow-tailed bee-eater, swamp bou-bou, redknobbed coot, brown hooded kingfisher and the African fish eagle.
Elephant pay an occasional visit to RiverDance as well as sightings of these gentle giants across the river, which is home to a host of large and small creatures, including hippopotamus, crocodiles, snakes and reptiles, otters, water monitors, insects, amphibians and butterflies.
Plants and stargazing
At once revealing and sharing it mysteries, the stunning forest of the Kavango region are dominated by Pterocarpus angolensis (kiaat), Baikiaea plurijuga (teak), Burkea africana (syringa), Terminalia sericea (silver terminalia), Schinziophyton rautanenii (mangetti), Guibourtia coleosperma (false mopani), Acacia erioloba (camelthorn), Sclerocarya birrea (marula), Peltophorum africanum (weeping wattle), Combretum zeyherii (large-fruited combretum), Searsia lancea (karee) trees.
After the sun has set, stars light up the night sky. Peer through our telescope in search of Orion, the Seven Sisters or other constellations, or simply soak in the atmosphere, with the far off beating of the African drum.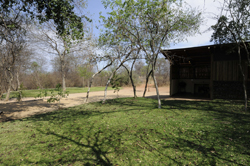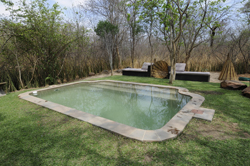 Email RiverDance Lodge enquiries and reservations: booknamibia@madbookings.com