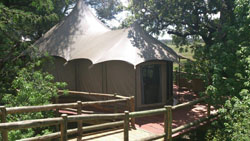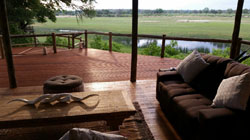 We are the only lodge in the entire region that is authorized to offer night drives. This is an incredible opportunity to head out and spot the elusive nocturnal creatures, as well as some of the big cats in action if we are truly lucky. There are a lot of elusive nocturnal animals that make an African night safari so special. We'll go out in search of leopards, bushbabies, civets, genets, hyena, aardvark and more, plus we'll see lots of hippos as they come out to eat during the night.
You can enjoy morning or afternoon boat cruise to explore the Kwando River, replete with the constant movement of elephants, hippos, crocodiles, reptiles, several species of antelope and their predators, giraffes, and more than 450 species of birds. This is a chance to view these magnificent animals as they go about their foraging and hunting. The cruise lasts three hours. It includes beverages and a light snack.
We also offer guided bush walks throughout the park. The walks are conducted by our local guides from the Conservancy. It provides an opportunity to get up close and personal with the flora and fauna. You'll be sure to see elephants and lots of smaller creatures along the way. The walk takes about three hours and includes a rest stop with beverages and a snack.