The lodge is situated 5km from the town of Katima Mulilo on the banks of the Zambezi River, with a beautiful and tranquil setting for business, relaxation and adventure.

Spacious, cool and comfortable river facing, en-suite chalets. We offer river kayaking, boating and tiger fishing as well as guided tours in surrounding game reserves and parks. Dining facilities and bar.

Situated on the banks of the Mighty Zambezi River, Caprivi River Lodge invites you to enjoy a relaxing, body and soul experience.
With beautiful river views under the shade of old indigenous trees so, whether you are a business person, tourist, fisherman or avid bird-watcher the lodge is the perfect place to chill out and relax; Caprivi River Lodge is the perfect spot.
t has been said that the Caprivi, "Namibia's Wetland Paradise", is one of Namibia's best kept secrets. From the majestic rivers, rich cultural customs to the vibrant reeds swaying along, the river's edge is full of life. The Caprivi region is an area steeped in wildlife and tradition and as yet undisturbed by western influences.
A truly magical place. Caprivi River Lodge is proud to be part of this wetland paradise.
Features of Caprivi River Lodge
Spacious, cool and comfortable river facing chalets
Dinning Facilities and Bar
Plunge Pool
Kayaks available free of charge for client use and at own risk
Some ideas of what to do at Caprivi River Lodge
Kayaking Trips Daily
Boating Trips (hour trips or day trips)
Fishing Trips (day trip)_
Self drive guided tours into parks
Relax at the plunge pool
Where is Caprivi River Lodge ?
4km east of the town of Katimo Mulilo on the Ngoma Road. Sign post on the road
With the numerous National Parks in close proximity; Caprivi River Lodge offers central accommodation enabling easy access to the attractions of this four countries area with plenty of exciting options to explore.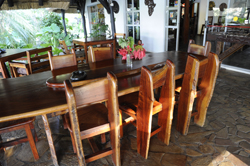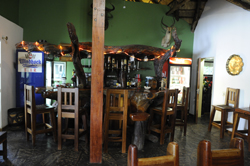 Email Caprivi River Lodge enquiries and reservations: booknamibia@madbookings.com