The things to enjoy most on Tiras: REST & RELAXATION!

In the environs of the farm you will find easily accessible vantage points. Enthusiastic climbers will be able to reach higher lying areas at their own risk and enjoy breathtaking panoramic views. We would also like to show you our succulents which are quite common in old Tiras: lithophytes, crassulaceae, anacampseros, sarcocaulons, hoodia, euphorbia and aloes….On the farm Oryx antelopes, bat-eared foxes, black-backed jackals, springbok, rock rabbits, hares, reptiles, eagles and hawks can be found.
The Tiras plain, where Farm Tiras is situated, is located between the Rooirand (Escarpment) and the south eastern foothills of the Tiras mountains at a height of 1400 m above sea level. Highest point: 1860 m above sea level. Distance from Windhoek: 560 km, from Helmeringhausen: 45 km, from Luderitz: 198 km and from Aus: 65 km.
The Farm is traversed by the old ox wagon path linking Lüderitz with the interior. As early as 1900 Tiras was known to transport drivers as a reliable watering place, which members of the German colonial forces later on also made use of.
Since 1930 Tiras has been utilized as a farm for livestock breeding. Relics from the early history of man can be seen on the farm in the form of bushman paintings, grating stones, tools and potsherds.
It is a cattle farm with a total surface area of 12.000 ha of which 10.000 ha is utilized for breeding purposes. The farm is divided into 22 camps with a watering point for animals in each camp. Water is pumped out of two bore holes from depth of 142 and 127 metres respectively and fed into a net of pipelines 17 km long. Two men and two women are employed as farmhands. The "Koch family" used to live on their family farm at the "Lewer" river which was originally purchased by the erstwhile German government for the purpose of cattle breeding, vegetable gardening and agriculture. The farm had to be sold in 1963 in accordance with the stipulations of Odendaal plan in order to facilitate the enlargement of the communal areas. In exchange Tiras was bought and developed further.
As people interested in botany and archaeology already came to visit Tiras while our parents were still here, the idea was born in the nineties, to establish a manageable tourism business. The idea came to fruition with the building of a guest bungalow in 1995.
As a result of severe weathering unique rock sculptures have been formed in Old Tiras. Should you wish we can arrange for dune drives on our neighbouring Farm "Excelsior". Concerning the climate it is of interest to note that the rainy season of summer and winter overlap. The weather is marked by unforeseen changes which range from relatively hot days and cool nights in summer to mild days in winter with occasional snowfalls and gusting winds.
As most nights are clear the starlit sky will leave an indelible impression on you.
Where is Tiras Camping and Self Catering?
Enroute from Aus to Sesreim desert area.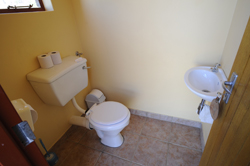 Email Tiras Camping Site enquiries and reservations: booknamibia@madbookings.com