Places to stay Inverurie
Hotels and Inns






Bed & Breakfast - Guesthouse












Self Catering and Cottages












Camping Caravan Hostel






Welcome to Inverurie Scotland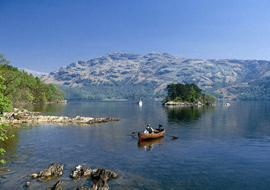 Inverurie is a town in Aberdeenshire, Scotland, approximately 16 miles (26 km) north west of Aberdeen on the A96 road and is served by Inverurie railway station on the Aberdeen to Inverness Line. The nearest airport is Aberdeen Airport at Dyce.
Inverurie is located in the valley of the River Don at the centre of Aberdeenshire and is known locally as the Capital of the Garioch. It sits between the River Don and the River Ury and is only ten miles from the imposing hill of Bennachie. The town centre is triangular and is dominated by the grand Town Hall built in 1862. In the middle of the 'square' (as it is known locally) is the Inverurie and District War Memorial, capped by a lone Gordon Highlander looking out over the town. The main shopping areas include the Market Place and West High Street which branches off from the centre towards the more residential part of the town. South of the River Don is the village of Port Elphinstone, which is part of the Royal Burgh of Inverurie and is so called due to the proximity of the Aberdeenshire Canal (Inverurie to Aberdeen) (now disused).
Inverurie hosts a wide range of sporting and leisure facilities including a swimming pool, fitness and sports centres The town has an 18-hole golf course with a number of other courses and two practice ranges within a ten mile radius. There is angling on the Rivers Don and Ury and a range of indoor and outdoor activities including bowling, clay pigeon shooting and mountain boarding.
Accommodation in and around Inverurie
Price Guide - per person based on sharing room:

under $40 -
$41 - 70 -
more than $70
West Wing
Inverurie
Gight Farmhouse, which is of Scottish traditional design, has a modern extension called West Wing. West wing is the ideal location for hill walking, cycling, golf, shooting, and the castle trail.
More Information
Email Hotel
Price Range

Clovenstone Lodge
Inverurie
The Clovenstone Lodge's central location is ideal for walking, cycling, fishing, with an abundance of golf and sports activities, and both the Castle and
Whisky Trails are within easy reach.
More Information
Email Hotel
Price Range

West Aquhorthies Cottage Inverurie
West Aquhorthies cottage is a beautiful farm cottage with log fire built over the winter of 2006/07 to very high standards. It offers luxury accommodation with views of Bennachie and surrounding countryside.
More Information
Email Hotel
Price Range

Kingsgait
Inverurie
Comfortable accommodation can be enjoyed at this family-run establishment in a quiet location, close to the centre of Inverurie. An ideal centre for sight-seeing and touring, being close to many attractions.
More Information
Email Hotel
Price Range
Strathburn Hotel
Inverurie
The Strathburn Hotel is a privately owned and managed hotel, situated just off the A96 in the busy town of Inverurie in Aberdeenshire. The hotel has easy access for both the business community and tourists.
More Information
Email Hotel
Price Range

Lower Middleton Self Catering Inverurie
Two bed roomed, self- contained holiday accommodation which is part of a recently converted steading. Situated on a small farm off a quiet public road, yet only minutes from the thriving town of Inverurie.
More Information
Email Hotel
Price Range

Broadsea
Inverurie
Broadsea is ideally located to explore the Castle
Trail, Whisky Trail and Stone Circle Trail. With nearby historic sites and attractions such as Archaeolink and a vast range of walks.
More Information
Email Hotel
Price Range

John Bell House
Inverurie
Enjoy the excitement of staying in one of the Trust's oldest castles, in this picturesque, spacious self-contained flat. Set amidst parkland with fields of grazing cows with a wonderful view of the castle.
More Information
Email Hotel
Price Range
Thainstone House Hotel Inverurie
Sitting resplendent in
acres of private garden and lush meadowland, Thainstone House Hotel
and Spa has been
lovingly designed to provide
superb levels of
hospitality.
More Information
Email Hotel
Price Range

Kirkton Park Bed And Breakfast Inverurie
A family home situated 4 miles from the centre of Inverurie and 1½ miles from the popular wedding venue Pittodrie House Hotel. We are well placed to join the Castle, Whisky and the Coastal Trails.
More Information
Email Hotel
Price Range

Ashdon Guest House
Inverurie
The surrounding area has endless amount of sightseeing. Try a walk up Bennachie, visit the Crickie stone circle or enjoy a stroll along the banks of the River Don which Ashdon guest house overlooks.
More Information
Email Hotel
Price Range

Logie Country House
Inverurie
Welcome to the ancient
and historic Logie Elphinstone House, luxury holiday let, set within its own private estate. Turrets and a courtyard conjure
up a true feeling of romance and tranquility.
More Information
Email Hotel
Price Range
Meldrum House Hotel
Inverurie
Set amidst beautiful countryside, The Meldrum House Country Hotel & Golf Course offers unrivalled quality. Only a few miles from Aberdeen, this is one
of the finest luxury hotels Scotland has to offer.
More Information
Email Hotel
Price Range

St Andrews Cottage
Inverurie
Three-bedroom, B Listed Cottage set within the ancient Royal Burgh of Inverurie, within rural Aberdeenshire. St Andrews Cottage is the perfect rest-bite for those in need of everyday conveniences.
More Information
Email Hotel
Price Range

Breaslann Guest House
Inverurie
Modern comfortable house with attractive gardens
and off-street parking. 15 minutes walk from town centre. Excellent base or stopping off point
for the business or
leisure traveller.
More Information
Email Hotel
Price Range

Inverurie Apartments
Inverurie
Inverurie Apartments are
the perfect base for the business community or tourism while in Aberdeenshire and can
also be a homely place to stay whilst relocating to Inverurie.
More Information
Email Hotel
Price Range
Iona Bed & Breakfast
Inverurie
'Iona' Bed & Breakfast is located in the rural Aberdeenshire town of Inverurie, 16 miles from Aberdeen. Providing off street parking and en-suite accomodation, a warm welcome awaits you.
More Information
Email Hotel
Price Range

New Hotel
Inverurie

More Information
Email Hotel
Price Range

New Hotel
Inverurie

More Information
Email Hotel
Price Range

New Hotel
Inverurie

More Information
Email Hotel
Price Range