It has 15 comfortably furnished rooms with bath/shower, WC, hairdryer, telephone, radio, TV - some rooms have also fridge and safe.
A nice garden, sun terrace, indoor swimming pool (in Winter-time heated), sauna, some gym facilities and a bar give you time for relaxation and recreation.
Secured parking area and garages are also available - also laundry service.
The hotel is under German management.
Features of Hotel Garni Adler
· 15 Comfortably Furnished Rooms equipped with a Hairdryer, Telephone, Radio, TV and some rooms also have a Safe and Fridge
· Nice Garden and Sun Terrace
· Indoor Swimming Pool (Heated in Winter)
· Sauna and Gym
· Bar
· Secure Parking and Garages
· Laundry Services
Some ideas of what to do at Hotel Garni Adler
· Relax with a drink in the Bar
· Relax at the Swimming Pool
· Pay a visit to the Gym and Sauna
· Take a walk in the Garden and Relax on the Sun Terrace
· Activities nearby includes: Golf, Tennis, Horse Riding, Camel Riding, Sailing, Surfing and Swimming
Where is Hotel Garni Adler?
Situated on the Beach front in Swakopmund (3 Strand Street)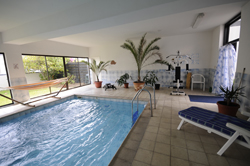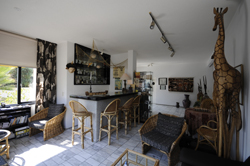 Email Hotel Garni Adler enquiries and reservations: booknamibia@madbookings.com
Swakopmund - a charming small town of the german colonial period with numerous picturesque buildings.
It is the most beautiful seaside resort at Namibia's Atlantic coast with large beaches - an oasis in the desert.
Swakopmund is easily reached by car, bus, train or aircraft.
There are many sport facilities which include: golf, tennis, horse - and camel riding, sailing, surfing and swimming.
The hotel is situated on the Atlantic beach front and provides a beautiful view to the dunes of the Namib desert