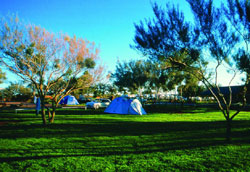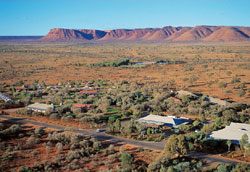 Camping and Caravanning
The spirit of the outback is alive at Kings Canyon Holiday Park Caravan Park & Campground. It's a friendly place, a relaxed place and a place to catch up with fellow travellers and trade stories at the end of the day.
Families, backpackers and Grey Nomads looking for camping in Kings Canyon are all catered for. Aside from outstanding views to the canyon range, you'll have all the amenities you need, including motor-home sites, powered and non-powered sites as well as grassy tent areas. A dump point for caravans and motor-homes is available.
Backpackers can enjoy serviced Kings Canyon lodging with shared bathrooms and a communal kitchen. There's also a picturesque swimming pool and children's playground. Of course, all travellers need supplies and you'll find everything you need (including fuel, gas and ice) at our Outback Oasis General Store.
Campground Facilities
Desert Oaks Bistro, Outback BBQ and Grill, The Thirsty Dingo Bar, Petrol station, Laundry
Outback Oasis General Store hot and cold food available, Souvenir shop, Internet café, Children's playground
Public phones, Outdoor BBQs, Swimming pool, Day and Night tennis court, Sunset viewing platform