Welcome to Tobemory Scotland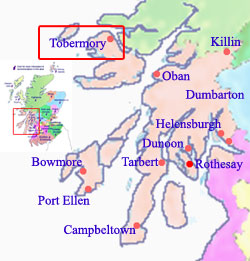 Tobermory was built as a fishing port in the late 18th century and is now the main village on Mull.
It is a picture-postcard of a place with the brightly painted buildings along the main street to the pier and the high woodland-fringed hills surrounding the bay.
The village has a good variety of shops, hotels, and other accommodation as well as being the administrative centre for the island. The harbour is always busy with fishing boats, yachts and the ferry to and from Kilchoan.
There is reputed to be the wreck of a Spanish galleon somewhere in the mud at the bottom of the bay. The ship was part of the defeated Armada of 1588 and was fleeing the English fleet when she anchored in Tobermory to take on provisions.
Following a dispute over payment the ship caught fire which caused the gunpowder to explode. She was supposed to have been carrying millions of gold coins when she went to the bottom but no-one has ever managed to find any significant treasure.
The Isle of Mull and Iona have become one of the premier destinations for wildlife watching in the United Kingdom in the last few years. Thousands of people are attracted to the islands in the hope of catching a glimpse of the rare and unusual Golden and White-tailed Eagles, Otter, Corncrake and an abundance of other birds and mammals. The seas off the coast of Mull are important feeding areas for whales, dolphins and basking sharks. The colourful and picturesque island capital of Tobermory is an ideal location from which to make the very most of your wildlife watching on the Isle of Mull.
Accommodation in and around Tobemory
Price Guide - per person based on sharing room:

under $40 -
$41 - 70 -
more than $70
New Hotel
Tobemory

More Information
Email Hotel
Price Range

New Hotel
Tobemory

More Information
Email Hotel
Price Range

New Hotel
Tobemory

More Information
Email Hotel
Price Range

New Hotel
Tobemory

More Information
Email Hotel
Price Range