Replacement column
Welcome to Langholm Scotland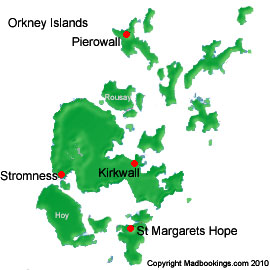 Orkney is a truly unique destination. A deep sense of history can be felt everywhere in the 70 or so scattered islands that make up the archipelago, islands where life is defined by the past and sculpted by the sea.
The ferry from Scrabster on mainland Scotland to Stromness sails past the impressive red stone sea-stack of the Old Man of Hoy, then on below the cliffs of St John's Head - the highest vertical cliff in the UK - making this the most dramatic way of reaching Orkney. Yet the drama of Hoy is misleading as the landscapes elsewhere are much gentler and well farmed. Kirkwall, Orkney's main town, is a great base for touring by car or by bike. There are excellent ferry services between islands.
Orkney offers a rich variety of activities on land, loch and sea to suit all abilities and interests, from golfing to walking, and from sailing to cycling. With almost 600 miles of coast and some great unspoilt areas, the islands are superb for wildlife watching and for rich and varied angling. Divers love it too, particularly around Scapa Flow where the German fleet was scuttled at the end of the First World War.
Accommodation in and around Langholm
Price Guide - per person based on sharing room:

under $40 -
$41 - 70 -
more than $70
Georgefield Cottage
Langholm

Georgefield Cottage a
newly restored, comfortable, single storey cottage is
part of a working cattle
and sheep farm in the
lovely Esk Valley 7 miles from the historic town of Langholm.
More Information
Email Hotel
Price Range

Four Oaks
Langholm
B &B accommodation in comfortable, peaceful, family home with open views of lovely rolling countryside and farmland. Ideal positional base for touring the borderlands and Scotland.
More Information
Email Hotel
Price Range

Jamestown Cottage
Langholm
Jamestown is situated at the top of the Meggat
Water in the heart of the Eskdale Hills just 10 miles northwest of Langholm.
The location is ideal for walking, cycling and
touring.
More Information
Email Hotel
Price Range

Whitshiels Caravan Park Langholm
Whitshiels Caravan Park
is a small attractive park situated on the A7 Edinburgh Tourist Route north of Langholm. There
are many Visitor
Attractions within easy reach.
More Information
Email Hotel
Price Range
Ewes Water Caravan And Camping Park

Ewes Water Caravan
And Camping Park is a tranquil site for complete relaxation yet near to
town and all amenities.
Shops and eating out facilities are within
two miles.
More Information
Email Hotel
Price Range

Wauchope Cottage Bed & Breakfast

Wauchope Cottage with
its beautiful garden, is in
a quiet area in the centre
of Langholm, five minutes
on foot from the High
Street with its shops,
banks, hotels and Post Office.
More Information
Email Hotel
Price Range

Bush of Ewes Farmhouse Langholm
Farmhouse on mixed working farm located
5 miles north of Langholm on the A7 tourist route to Edinburgh in the border country. 18 miles south of Hawick, ideal for walkers and bird watchers.
More Information
Email Hotel
Price Range

Border House
Langholm
Border House is situated
on the main A7 route directly next to the Bank
of Scotland on the High Street of Langholm. We are ideally placed for local restaurants, pubs and facilities within the town.
More Information
Email Hotel
Price Range
Beech Cottage
Langholm
Beech Cottage is within driving distance of Gretna Green, famous for weddings and Langholm which is well-known for Thomas Telford & Eskdalemuir where the Kagyu Samye Ling Tibeton Buddhist Centre is.
More Information
Email Hotel
Price Range

New Hotel
Langholm

More Information
Email Hotel
Price Range

New Hotel
Langholm

More Information
Email Hotel
Price Range

New Hotel
Langholm

More Information
Email Hotel
Price Range