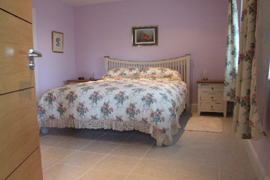 A warm welcome awaits you at Easter Yetts House B & B!
Easter Yetts House Bed & Breakfast is a recently completed, detached property in a quiet, rural location in the southwest corner of Perthshire.
It provides an ideal base for touring central Scotland, Perthshire and Fife. Within comfortable travelling distance are Gleneagles, Perth, St. Andrews, Edinburgh, Dunfermline and Stirling.
Easter Yetts House Accommodation
The accommodation consists of three en suite rooms, two with king size beds, the other with twin beds. The upstairs double room also has a foldaway bed that can be used as a sofa or as a bed for two children - so turning it into a family room. Each room has en-suite facilities with shower, digital TV with in-built DVD player, clock radio, and tea and coffee making facilities. A small library of DVD's is available for guests to select from.
A small library of books and DVD's is available. The guests' gallery lounge and two upstairs bedrooms have great views over the Cleish Hills to the south.
Breakfast - Start your day with a hearty cooked breakfast made from home grown and locally sourced produce where possible, or choose from a range of cereals, fresh fruits, and home made breads, jams and marmalade. Eggs are from our own free range hens, and in season fruit and tomatoes are from the garden. We will also cater for vegetarians by prior arrangement.
Check in time is from 4:00pm onwards, or earlier if pre-arranged.
Activities
Golfers
Easter Yetts House is in the heart of golf country and up to 20 or so courses, including; Muckhart, Dunning, Gleneagles, Auchterarder, Dollar, Tilicoultry, Balbirnie, Ladybank, Dunfermline and Kinross are within an easy drive.
Bikers and Racers
Easter Yetts House is a short sprint from Knockhill, Scotland's premier motor racing circuit. We have plenty off-road parking for cars and trailers.
Cyclists
Easter Yetts House is well placed for those looking for a base to explore the hills and flatter lands of southern Perthshire, Fife, Clackmannanshire and Stirlingshire. We offer drying facilities for wet cycling gear and secure lockups for your bicycles.
Fishermen
Easter Yetts House is almost within casting distance of Loch Leven, the Ochil hill lochs, and the River Devon, all of which can offer some good sport. The River Earn and River Tay are within an easy day's travelling distance. Freezer space is available for your catch for those successful days on the water.
Ian and Jacqueline look forward to welcoming you to Easter Yetts House.
Green and Sustainable
At Easter Yetts House we aim to be as 'green' as possible and to keep our carbon footprint small. We grow our own vegetables and fruit, keep free range hens and have a cutting border for flowers.
Where possible our garden is run on organic principles and we encourage wildlife in to keep on top of the pests rather than bombarding them with chemicals.
Our hens are free to range around a large paddock and as well as getting pellets and corn they get scraps from the kitchen and any excess fruit and vegetables to give them as varied a diet as possible. We compost and recycle as much as we can and have a number of good going compost heap in the vegetable garden.
Throughout the year we produce a range of vegetables from our raised beds, vegetables patches and from the greenhouse. In the summer and autumn we use strawberries, blackcurrants, redcurrants, gooseberries, apples and pears; fresh or made into jams for our guests. Where possible we source our food locally and prefer UK grown food to that brought in from the other side of the world.
Household waste goes into a septic tank rather than the mains sewers so we use environmentally friendly cleaning products where possible to keep the tank as healthy as possible!
When we built EYH we put as much insulation in as possible to keep heating bills low and the big south facing window is great for solar gain throughout the year.
We also installed a solar panel on the roof which heats the water nicely and in the boiler house we have a wood pellet burner which tops up the hot water and drives the under-floor heating throughout the downstairs. Upstairs in the rooms we have thermostatically controlled, gel filled, off-peak radiators which are proving to be very efficient.
Clothes and bed linen are dried outside rather than in a tumble drier. At EYH we aim to have a high green footprint and a low carbon footprint.
DIRECTIONS
Easter Yetts House is located on the A91 Stirling to St. Andrews road, I mile east of the Yetts O'Muckhart, and seven miles west of Milnathort. If coming from Perth and the north on the M90 leave the motorway at Junction 7 and turn right onto the A91 at the top of the slip road.
If coming from Edinburgh and the south on the M90 leave the motorway at Junction 6. (There is no access onto the A91 from the south at Junction 7).
Email Easter Yetts House enquiries & reservations: bookscotland@madbookings.com