Other places to stay in and around Huntly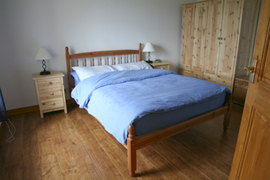 Welcome to Beggshill Bothy.
Originally built in the 1920's as a farm labourer's cottage, the Beggshill Bothy was completely refurbished in 2006 to make it in to cosy retreat from the hectic life of day to day living.
We live in a small glen only a few miles from the main Aberdeen to Inverness road, but those few miles make a world of difference.
We have tried to be as green as possible while renovating the bothy, there is good insulation through out the walls, floor and ceiling.
We encourage you to recycle as much as possible while here.
Behind the bothy there is a plastic chest for storing recyclable material (glass, paper, cardboard, tins). The wheely bin is also situated out the back.
You can also compost your organic rubbish. There is also compost bins dotted around the farm and if you are brave enough you can compost your organic rubbish too.
Beggshill Bothy Accommodation
The living room contains a sofa bed, with bedding. There is a tv and dvd player. We have included a selection of DVD's for those rainy days or lazy evenings. The kitchen area has a tall fridge/freezer, oven/hob with extractor fan, sink and slim line dishwasher. We supply all the cutlery and crockery you might need. There is also a microwave, toaster and coffee maker.
The shower room contains the toilet, sink and shower. We will supply all the towels needed in the bothy.
The bedroom contains a comfy double bed with bedside draws at each side. There is also a vanity table with mirror as well as a large wardrobe. We supply all sheets and bedding.
At Little Beggshill we keep horses. We have three. Well, technically, we have one horse, an appaloosa, and a Shetland and a miniature shetland.
Please be careful when they come to the fence, if you don't know horses, then wait until Susi or I are around and we'll supervise the stroking and feeding. The two Shetlands can be over eager when trying to get a tit-bit from your hand and may nibble a finger by mistake.
We also have two cats who you might see out and about around the small holding.
We have also gained some very friendly chickens who will visit you at the bothy. They are very fond of sultanas and will feed from your hand if you wish. Although we do have a cockeral, he isn't that noisey, actually what may wake you up is the hens on the windowsill and not his crowing. If you don't like chickens, just shoo them away.
Sites to see, places to visit:
Stand outside the bothy on a calm day and listen. Don't say anything, just listen. Listen to the birds, the wind in the trees.
Occasionally you might hear a tractor or one of the few cars we get down our road, but other than that you won't hear any man made noises. And if you are here during the winter. Stand outside on a clear night and look up. Did you know there were that many stars in the sky?
And if you are very lucky, you might see the Northern lights. If its predicted to show we'll tell you when you arrive and if we see it, we'll come and get you.

· Walking
There are lots of hills and mountains close to us, so there is a walk to suit everyone. If you are young and fit, you can drive out to the cairngorms, or cut across country towards Ballater where there are several challenging walks. Closer to home, there is Tap O Noth or Bennachie, both are nice less challenging walks, but that depends on your fitness.
You can always stop to "admire the view" if you need to catch your breath.
If you don't fancy an upward struggle, Beggshill Bothy is only 25 miles from the coast. There are lots of great coastal walks. And who knows, if you keep an eye on the sea you might see dolphins.

· Castles and Historic buildings
What's the first thing you think of when you think of Scotland? Ok, after whisky, what's the first thing? Yep, Castles. We are on the castle trail. We've got several close to us, the closest being Huntly castle, but there's also Leith Hall, Kildrummy Castle the list is endless. If you want to see something even older, there are a lot of fabulous standing stones in this part of the world.

· Distilleries and Brewerys
Whisky. The Beggshill bothy is 15 miles from Dufftown, which is the whisky capital of the Highlands. On a driecht day, what's better to lift the spirit that a tour round a warm, dry distillery. And by the end, you might end up with a bottle of something golden and warming. If you've had your fill of whisky, then you should check out the Cairngorm brewery, they produce brilliant Scottish ales.

· Huntly
Its well worth spending half a day wandering around Huntly. Although we now boast those big multinationals Tesco and Asda on the outskirts of Huntly, they haven't yet driven out the wonderful local shops. We have a couple good local butchers and bakers, the Huntly gallery sells weird and wonderful stuff.
There is of course the obligatory whisky shop, but you should also check out the green grocers on Gordon street, the official seller of Rizza's icecreams.
Mmmmh, Rizzas ice cream. Next to it is the co-op with the best selection of alcohol anywhere in the district. Don't forget Dean's of Huntly, the best shortbread in the area. And if you need a curry, then Cafe India is probably the best in the whole of Aberdeenshire. And they'll do a take out too.

· Cook yourself a Scottish feast.
Not far from here there is another small glen where the local farmers have gotten together to produce tasty foods grown and reared in an ethical manner.
Food from the Braes is made up of three companies Scottish Freshfoods, Mortlach Game and Huntly Herbs. Give them a call and arrange a visit or they might even deliver everything you need for a feast. Huntly Herbs has an online shop.

· Ceilidh
Pronouced kayleigh, you can not come to Scotland without experiencing a ceilidh. Don't worry if you've never danced before, its easy. Before you know it, you'll up on the floor doing eightsome reel, dashing white sergeant and the Boston two step. And at the end of the night, if you've still got the energy, you can join in with the Arcadian strip the willow. Once you've finished that, you'll know its time to go home.

· Highland Games
If you want to see tossing the caber or piping competitions, then the highland games are for you. And there are always plenty of men in kilts.

· Wildlife
There is a lot of wildlife in our region. Around the bothy there are plenty of birds, in addition to the more common garden birds, there is goldcrests, siskin, barn and tawny owls and roe deer in the woods. Up on the hills, its possible to see Red deer, ptarmigan, crossbill and if you are very lucky the capercaille. We also have the peregrine centre just by Huntly. There is also the Huntly Falconry centre as well.

· Macduff Aquarium
This is a very very cool day out. There are loads of fish that live in the seas around Scotland, the environments go from the splash zone to the deep sea. They have feeding sessions which are not to be missed. Divers go in to the big tank and hand feed the denziens of the deep. Its amazing. You can even stroke a starfish.

· The Spotty Bagshop.
You will have never seen anything like the spotty bag shop. Take a middle east souk, stick it in a warehouse on the NE coast of Scotland selling British stuff and you might have a close analogy. Its in Banff, next to Macduff, so check them both out on the same day. I challenge you to go there and not buy something.
Location:
We are surprisingly easy to find. Just 35 miles north west of Aberdeen, along the A96, the turn right, cross the cross roads and we're a couple of miles down that road. You can try to put our postcode (AB54 6AN) in to multimap or equivalent, but be warned, it'll show our neighbours not us. You can try it, but remember to keep going to Little Beggshill and not stop at Stoneyfield.
Directions:
FROM ABERDEEN.
Head up the A96 Inverness road from Aberdeen, past Kintore and Inverurie. Keep heading on past the turning for Insch, at some point soon you'll see Morgan McVeighs on the left. You are getting closer. As you go round the corner you'll see loads of big windmills on the hill.
Keep going, you'll come to a hill with a crawler lane as you go up and then another as you go down the other side. You are nearly at our turning.
You should see a right turn signposted Thomastown. Turn here, down the hill and up the other side to a small cross roads. Go straight across the cross roads. Its not far now.
Down the hill past the first farm, then another house with horses called Stoneyfield and then round their barn and we're about a half mile from there, up on the left there is a driveway signposted Beggshill bothy and Little Beggshill. You are here.
FROM HUNTLY
Head towards Aberdeen from Huntly, we're the third left turn, signposted Thomastown. Turn here, down the hill and up the other side to a small cross roads. Go straight across the cross roads. Its not far now. Down the hill past the first farm, then another house with horses called Stoneyfield and then round their barn and we're about a half mile from there, up on the left there is a driveway signposted Beggshill bothy and Little Beggshill. You are here.
A WORD OF WARNING:
This is Scotland. The roads that you will use after turning off the A96 are small. You will struggle to get two cars past each other without having to use the grass verge. Be careful not to go to far on to the verge, they weeds often hide a drainage ditch. There is also a lot of wildlife in our area. Please drive sensibly. The pheasants are stupid. They seem to think they can bully the cars off the road.
There is a hare who lives in the fields and likes to race in front of cars. Please don't run it over. Once you are past our neighbours, the likelyhood that you'll meet deer increases. We often have several grazing in the clearing opposite the bothy. These deer like to run for the forest if they hear a car so they often rush across the road with no warning. Again, please keep your speed down.
If you are coming to visit us in the winter months, you must also take a note of the weather conditions. Global warming may be affecting the climate, but in the winter we still have some snow and we're not likely to get the snowplough through very often. We know a very friendly farmer who has pulled me out of a snowdrift or two. Any worries, stop at the top of the road, just off the A96 and call us, we'll either talk you in or come and find you to show its safe to drive.
Email Beggshill Bothy enquiries & reservations: bookscotland@madbookings.com