Culgower House lies between Brora and Helmsdale on the scenic coast of East Sutherland in the north highlands of Scotland.
We offer tranquil, contemporary, high quality bed and breakfast accommodation in a traditional setting.
Culgower House Accommodation
The house was originally built in 1850 as a farmhouse for Sutherland Estates.
When the present owners bought the house in 2003 it was somewhat dilapidated.
Both the house and gardens have now been restored and the kitchen garden has been recreated to provide the house with vegetables, herbs, flowers and fruit.
We have two bedrooms, both have views over the garden and out over the sea. Both rooms also have seating areas, television with DVD player, wireless internet access, tea making equipment and hairdryers.
Moray is a large room at the front of the house and looks towards the Moray coast. It has a king size bed and a sofa bed is available to turn it into a family room.
The room has a private bathroom with large bath and separate shower. The sofa bed is 1.2m wide and is suitable either for an adult (to use as a twin room) or for two medium sized children.
Garty is another large room (see picture top right), at the side of the house, with views over the sea to the north (see picture below). It has a super-king size bed which can be separated into twin beds. The room has an en-suite bathroom with a bath and separate shower.
We are happy to welcome children of any age. In addition to the sofa bed in Moray, a cot can be provided in either room and a high chair is also available.
Our bedrooms have been carefully refurbished and styled to reflect the age, character and location of the house.
Both have king size beds, sea views, flowers, wireless internet and bathrooms with large baths and showers. In addition, one room can operate as a family room and the second can be altered to a twin bedded room.
The public rooms have been similarly restored and are kept for the sole use of our guests. Breakfast is served in the dining room and is prepared using as much local produce as possible, including fruit, vegetables and herbs from our garden and eggs from our hens.
We hope that you will enjoy relaxing in our comfortable sitting room with its piano, books and original fire place.
Both the public rooms retain many of their original features. The sitting room also has books, a piano and a small gallery corner offering a selection of local photographs and crafts for sale. Breakfast is served in the dining room with views over the garden and the Moray Firth.
Culgower House is a family home, so we do not allow smoking and as we have a dog, cat and hens of our own, we regret that we are unable to accept visiting pets.
We have a boot room, a drying room and offer secure storage for bikes.
Food
Breakfast is served in the dining room which has views over the gardens, fields and sea. We aim to use as many locally produced ingredients as we can. Where possible we use fruit, herbs and vegetables from our garden and eggs from our hens. We make our own bread, preserves and chutneys. Local suppliers provide high quality meat, seafood, oatmeal and honey.
Our breakfast menu changes regularly but always includes porridge, a full Scottish breakfast and home baking. Specials may include smoked haddock with poached eggs or smoked salmon with scrambled eggs.
If you have any special dietary requirements we will always try to cater for them. Please let us know when making your booking.
Home baking is a speciality and when you arrive you will be offered tea and baking served in the sitting room. Packed lunches are available on request and again we try to use local ingredients where possible.
Eating out
Both Brora and Helmsdale offer a variety of places to eat in the evening, from fish and chips to fine dining; see the links below. If you are cycling or you plan to enjoy your meal with a drink, we are happy to help arrange transport.
Brora
Royal Marine Hotel - restaurant, bistro
Sutherland Inn
Indian Ocean - new restaurant and take away
Helmsdale
The Bridge Hotel - restaurant, bar meals
La Mirage - fish and chips
Eating in
Sometimes setting out again in the evening in search of a meal might not be what you wish to do. On request we can provide a light supper, we would ask that you book this at least 48 hours in advance as we buy the ingredients to order.
We do not have an alcohol license, but please bring your own bottle if you wish.
Travel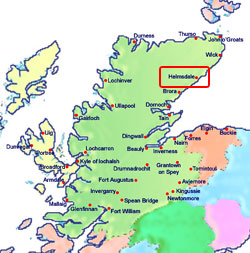 Culgower House is just off the A9 road, 63 miles (102 km) north of Inverness. Driving from Inverness to Culgower House takes just over an hour.
Inverness has an airport with scheduled direct flights from London, Edinburgh and many regional UK airports, including the Scottish Islands. Car hire is available from both Inverness airport and railway station.
There are railway stations at both Brora and Helmsdale with regular train services serving the north highlands and, via Inverness, the rest of Scotland as well as London and other English mainline stations.
Ferries to the Orkney and Shetland Islands leave from terminals approximately an hour and a half's drive north.
The Area
Culgower House is situated between Brora and Helmsdale on the scenic coast of East Sutherland and has glorious views over the Moray Firth. It is ideally placed for exploring the north highlands of Scotland. As well as the beautiful scenery and beaches, our area is rich in activities and offers:
* history (brochs, castles and gardens) and genealogy
* walking and climbing,
* golfing,
* mountain biking,
* fishing,
* stalking and shooting,
* bird and sea life watching,
* shopping,
* distilleries, highland games and much more.
The house has a drying room and boot room and offers secure storage for bikes.
History and genealogy – the local area has a number of cairns, brochs and standing stones dating back thousands of years. The Timespan Heritage and Arts Centre in Helmsdale has won a number of awards and portrays life in the area over past centuries, has a sizeable local archive and also a contemporary art gallery. Dunrobin Castle, seat of the Earls of Sutherland, lies 10 miles south on the edge of Golspie.
The Castle of Mey, highland home of the late Queen Mother is well worth a visit and is about an hours drive away.
Dornoch, 20 miles south of us is famed for its 12th century Cathedral, 15th century castle, its golf course and historic buildings.
For those seeking to research their family history there are a number of Clan museums in the area as well as the Timespan archive. Other historic attractions within an hour or two's drive include Urquhart Castle on Loch Ness, Cawdor Castle and Fort George by Inverness and the prehistoric Camster Cairns near Lybster. In addition, the Orkney Islands have a wealth of history and the ferries to take you there, whether for a day visit or for longer, are approximately an hour and a half's drive north of us.
Walking and climbing – we have spectacular beaches all around us and seals are a common sight. There are a number of easy and interesting walks in the area. In addition, the hills are spectacular and, should your inclination turn to Munro bagging, Ben Klibreck, Ben Hope and Ben More Assynt are nearby and the mountains of Assynt and the west coast can be reached in just over an hour.
Golf – Brora Golf Club has an excellent 18 hole links course designed by James Braid, Royal Dornoch, formed in 1877, is a 30 minute drive away, Helmsdale Golf Club has a 9 hole course with views up Strath Halladale, Golspie Golf Club also has a lovely links course and there are a number of other courses within one hour's drive.
Mountain biking – Golspie's Wildcat trails are superbly built and boast the longest downhill run in the UK. The trails cater for all abilities from family rides to an impressive and awe inspiring black trail from the top of Ben Bhraggie. Other trails in the area include those at the Kyle of Sutherland, Learnie Red Rocks, Laggan Wolftrax, Rosehall and Borgie Forest.
Fishing – Fishing is available on the renowned rivers of the Helmsdale and the Brora. In addition fishing is available on many local lochs. For further information we suggest that you contact Ronald Sutherland at the Helmsdale Company.
Stalking and shooting - shooting is available at a number of local estates, for example Achentoul, and through sporting agency CKD Galbraith.
Bird and sea life watching - wildlife in Sutherland is plentiful and you are likely to see seals on beaches and deer grazing the hills as you travel around the county. Loch Fleet national nature reserve near Golspie has large numbers of wildfowl and waders. RSPB Forsinard is a peatland bird reserve about half an hour's drive away and offers guided bog walks to help you appreciate the flora and fauna. The Moray Firth is home to a population of over 100 bottlenose dolphins and there are a number of land-based centres and sea trips available to help you watch them.
Shopping – when the weather is not displaying the usual benefits of the Moray Firth micro climate, there is always local shopping to turn to. The Jail in Dornoch is well known for its cashmere, pottery, sporting clothing, crafts and gifts. The Falls of Shin visitor centre is stocked with all you would expect of the Harrods of the North. ANTA has a shop at its factory near Tain which showcases its fabrics and furniture. Hunter's Tweed, which was originally manufacutred in Brora, is available through the Calluna Country shop in the village. Also there are many local craft shops and artist's studios, including Pandora's in Brora and the Timespan shop in Helmsdale.
Other – there is a good beauty salon, Blisss, tucked away in Brora if you would like to treat yourself. Should you feel more energetic, there are riding stables, also in Brora, offering both lessons and hacking through the beautiful countryside.
Clynelish distillery in Brora produces a noted malt, available only in the local area and offers distillery tours. In the summer season there are a number of Highland Games throughout Sutherland, Caithness and Ross-shire, including the Helmsdale Games in the third week of August.
Lastly, visit the site of Sutherland's gold rush at Baile an Or on the Helmsdale river, gold panning equipment is available to hire in Helmsdale! You can find out more about the facilities available in Helmsdale on the Helmsdale village site and in Brora on the Brora village site.
Road Directions:
From the south, follow the A9 out of Inverness towards Thurso.
* Keep on the A9 for 56 miles (90 km), through the village of Brora.
* After a further 5 miles (8 km) you will pass a village sign for Loth.
* Continue for another 2 miles (3 km), past a church on your right and past a direction sign for Lothmore on your left.
* Take the next turning left (approximately 400m), our drive leads sharply up on your left from that junction.

From the north, follow the A9 through Helmsdale and Portgower.
* Just outside Portgower you will pass a large stone marked 'West Garty Farm' on your left.
* Continue for 1 mile (1.5 km), turn right after the 'road narrows' road sign.
* Our drive leads up from that junction.
We do not have a bed and breakfast sign, but there are slate house signs on the wall which are visible from the road both north and south bound.
If you are using a sat nav or GPS we suggest that you use grid reference 29757E, 91193N as the post code covers a large area.
Email Culgower House enquiries & reservations: bookscotland@madbookings.com