Places to stay Haddington
Hotels and Inns

The Avenue Restaurant Rooms
Bed & Breakfast - Guesthouse

Carfrae Farmhouse


Eaglescairnie Mains B&B


Letham House


Orchard Guest House


Overhailes Farmhouse


The Old Farmhouse
Self Catering and Cottages

1 Goodall Place


Lennoxlove House


Overhailes Selfcatering Cottages

Camping Caravan Hostel
Welcome to Haddington Scotland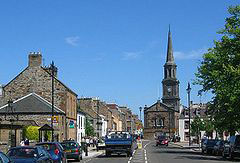 Haddington is a town in East Lothian, Scotland. It is the main administrative, cultural and geographical centre for East Lothian, which was known officially as Haddingtonshire before 1921. It lies approximately 20 miles (32 km) east of Edinburgh.
Haddington lies on the Great North Road, twenty miles to the east of Edinburgh. Though long bypassed by the A1, its position has through history meant it has served as a gateway to Edinburgh and to central Scotland. This has placed it in the path of more than one of the many marauding armies to have trodden this route over the past thousand years.
Linguistically the name Haddington is Anglo-Saxon, dating from the 6th or 7th century AD when the area was incorporated into the kingdom of Bernicia. The town, like the rest of the Lothian region, was ceded by King Edgar of England and became part of Scotland in the 10th century. Haddington received burghal status, one of the earliest to do so, during the reign of David I (1124–1153), giving it trading rights which encouraged its growth into a market town.
Today Haddington is a small town with a population of less than 9,000, although at one time it was the fourth largest city in Scotland, after Aberdeen, Roxburgh and Edinburgh. At the centre of the town is the Town House, originally built in 1748 according to a plan by William Adam. When first built, it consisted of a council chamber, jail and sheriff court, to which assembly rooms were added in 1788, and a new clock in 1835. Nearby is the Corn Exchange (1854) and the County Courthouse (1833). Other notable sites include the Jane Welsh Carlyle House, and Mitchell's Close.
Accommodation in and around Haddington
Price Guide - per person based on sharing room:

under $40 -
$41 - 70 -
more than $70
1 Goodall Place
Haddington
This charming holiday cottage just for two, is tucked away in a tiny lane close to the ancient Nungate Bridge, an easy stroll from the town center with excellent choice of restaurants and shops.
More Information
Email Hotel
Price Range

The Old Farmhouse
Haddington
The Old Farmhouse is a recently restored cartshed which has been very tastefully restored to provide a perfect place to spend a day or two in the wonderful East Lothian Countryside in a home from home location.
More Information
Email Hotel
Price Range

The Avenue Restaurant Rooms Haddington
The Avenue Restaurant with Rooms at the Victoria Inn occupies a prominent position in Court Street in the town center of Haddington, close to banks and shops and with generous public parking nearby.
More Information
Email Hotel
Price Range

Eaglescairnie Mains B&B Haddington
Eaglescairnie Mains offers the best of both worlds - warmth and comfort in rural tranquility with stunning views over rolling wooded farmland combined with easy access (30 minutes) to the city of Edinburgh.
More Information
Email Hotel
Price Range
Orchard Guest House
Haddington
On the doorstep of Scotland's buzzing capital, set in the rolling farmlands of East Lothian, are the Orchard House Chalets, just 5 minutes drive from the A1 south of Edinburgh. They are very spacious chalets.
More Information
Email Hotel
Price Range

Overhailes Farmhouse
Haddington
The Farmhouse is situated in the heart of East Lothian between the quiet village of East Linton and the historic town of Haddington. It was built around 1780, though parts have been added and removed over the years.
More Information
Email Hotel
Price Range

Carfrae Farmhouse
Haddington
The Farmhouse, which is only 22 miles from Edinburgh, offers an ideal opportunity for a short break in Scotland. East Lothian offers visitors some of the finest experiences to be found in the UK.
More Information
Email Hotel
Price Range

Lennoxlove House
Haddington
Lennoxlove House - 5 Star Luxury Accommodation and Fine Dining, East Lothian, Scotland. They invite you to enjoy their hospitality in this exceptional and historic House just 20 miles from Edinburgh.
More Information
Email Hotel
Price Range
Overhailes Selfcatering Cottages Haddington
If you're looking to book accommodation, they can offer 4 star bed and breakfast rooms all with ensuite bathrooms for 10 or more people in Overhailes Farmhouse. They've also developed a games room on the farm.
More Information
Email Hotel
Price Range

Letham House
Haddington
Nestled at the bottom of a secluded driveway, Letham House is located just outside the small market town of Haddington in East Lothian. This beautiful area is just a short drive from Scotland's historic capital city, Edinburgh.
More Information
Email Hotel
Price Range

New Hotel
Haddington

More Information
Email Hotel
Price Range

New Hotel
Haddington

More Information
Email Hotel
Price Range