Places to stay in and around Falkirk
Hotels and Inns
Grange Manor Hotel

Leapark Hotel

Premier Inn Larbert

Premier Inn Polmont

Travelodge Polmont
Bed & Breakfast - Guesthouse
Ashbank

Carriden House

Carronvale House

Easter Glentore Farm B&B

Grangeburn House

Lismore House

Nancy McGillivray

Oaklands Bed & Breakfast
Self Catering and Cottages
Acorn Cottage

Antonine Wall Cottages

Lawford Lodge

Lower Doune
Camping Caravan Hostel
Welcome to Falkirk Scotland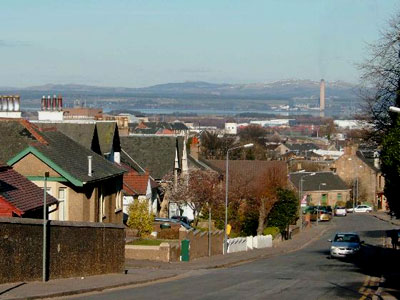 Falkirk lies in the Forth Valley, almost equidistant between the two most populous cities of Scotland; 23.3 miles north-west of Edinburgh and 20.5 miles north-east of Glasgow.
Falkirk had a resident population of 32,422 at the 2001 census. However, the population of the town had risen to 34,570 according to a 2008 estimate, making it the 20th most populous settlement in Scotland.
Falkirk is the principal town and administrative centre of the Falkirk Council area, which has an overall population of 145,191 and includes nearby towns of Grangemouth, Larbert and Stenhousemuir.
The town lies at the junction of the Forth and Clyde Canal and the Union Canal, a location which proved pivotal to the growth of Falkirk as a centre of heavy industry during the Industrial Revolution. In the 18th and 19th centuries Falkirk was at the centre of the iron and steel industry, underpinned by the Carron Company situated in the nearby village of Carron.
The town hosts the Falkirk Farmers' Market on the first Friday of every month which brings a boost to Falkirk's retail sector.
Attractions in and around Falkirk include the Falkirk Wheel, Callendar House and Park and remnants of the Antonine Wall. Soon to be a feature of the town is the Falkirk Helix, a new recreational area with walk and cycle paths with the main attraction being a new boat lift and extension to the Forth and Clyde Canal.
Accommodation in and around Falkirk
Price Guide - per person based on sharing room:

under $40 -
$41 - 70 -
more than $70
Easter Glentore Farm B&B Falkirk
A farmhouse set on a 240 acre farm with forest walks. Located in a scenic setting between the villages of Greengairs and Slamannan, with panoramic views of the hills in the north.
More Information
Email Hotel
Price Range

Lower Doune
Falkirk
A semi-detached house with landscaped garden
and situated in a quiet residential area near Falkirk. It makes an ideal base for touring central Scotland.
More Information
Email Hotel
Price Range

Lismore House
Falkirk
Easily accessible by motorway and public transport, making us ideally suited to business and tourist clients. Many of Scotland's top attractions are only a short drive away.
More Information
Email Hotel
Price Range

Acorn Cottage
Falkirk
Relax and enjoy the open countryside of this sheep farm with panoramic views and woodland walks. Excellent touring base for Glasgow, Stirling and Edinburgh.
More Information
Email Hotel
Price Range
Nancy McGillivray
Falkirk
Luxury detached home close to amenities, Falkirk Wheel and Callander
Park. Convenient for Edinburgh, Glasgow and Stirling. Warm welcome assured.
More Information
Email Hotel
Price Range

Oaklands Bed And Breakfast Falkirk
Oaklands is a spacious detached Edwardian villa
built in 1910 as a home for the Young family, Boot Manufacturers of Laurieston.
The house retains many of the period features.
More Information
Email Hotel
Price Range

Ashbank
Falkirk
Surrounded by private gardens on all sides and quietly situated overlooking the Ochil Hills. Ashbank is
a detached stone house
built in 1896 on the east
side of Falkirk.
More Information
Email Hotel
Price Range

Carriden House
Falkirk
Carriden House is our
family run 3-star B&B near Linlithgow. The house lies
in a quiet rural location overlooking the River Forth, only 25 minutes from Edinburgh.
More Information
Email Hotel
Price Range
Grangeburn House
Falkirk
Grangeburn Guest House
is centrally located only
20 minutes from Edinburgh Airport and 20 minutes
from Stirling Castle.
We are also close to the Falkirk.
More Information
Email Hotel
Price Range

Leapark Hotel
Falkirk
Staying at Leapark is a pleasure whether you are on business, attending a special occasion or simply relaxing within easy reach of Scotland's most stunning scenery.
More Information
Email Hotel
Price Range

Antonine Wall Cottages
Falkirk
Two luxurious 4 Star Stable Conversions near Stirling. Situated right in the middle of Scotland, conveniently between Glasgow and Edinburgh with Stirling and Falkirk within 10 minutes.
More Information
Email Hotel
Price Range

Premier Inn Falkirk
Larbert Falkirk
Our Falkirk Larbert Premier Inn has everything you'd expect, incredibly comfy beds in every room and an onsite pub restaurant. With friendly service that'll make you feel right at home.
More Information
Email Hotel
Price Range
Travelodge
Polmont Falkirk
At Travelodge Falkirk, we're proud of our no frills accommodation as it means we can keep room rates low, per room, per night. This is crucial when you have plenty of sights to see.
More Information
Email Hotel
Price Range

Carronvale House
Falkirk
The beautiful grade A listed mansion house which retains many of the original features is ideally situated in the central belt of Scotland with good motorway and rail links to major cities.
More Information
Email Hotel
Price Range

Premier Inn Polmont
Falkirk
We have everything you'd expect, incredibly comfy beds in every room and an onsite Brewers Fayre restaurant serving great value pub favourites in a family friendly environment.
More Information
Email Hotel
Price Range

Grange Manor Hotel
Grangemouth - Falkirk
We are set in landscaped gardens on the outskirts
of Grangemouth and
Falkirk. We have the look and feel of a country house hotel, but are only minutes from Stirling.
More Information
Email Hotel
Price Range
Lawford Lodge
Falkirk
A beautiful holiday cottage situated in the Scottish countryside overlooking the Ochil and Campsie hills. We have some of the most breathtaking views of the countryside beyond.
More Information
Email Hotel
Price Range

New Hotel
Falkirk

More Information
Email Hotel
Price Range

New Hotel
Falkirk

More Information
Email Hotel
Price Range

New Hotel
Falkirk

More Information
Email Hotel
Price Range