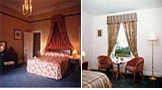 In a delightfully elevated position in the ancient City of Dunfermline in Fife – Garvock House Hotel sits proudly in over 2 acres of splendid gardens and grounds, a glorious testimony to its heyday as a stunning family house.
Truly 'the country house hotel in the city'. Family owned and run, Garvock House hotel has been transformed into a delightful award winning small luxury Scottish hotel, retaining an authentic and rather special country house charm and informality: relaxing, luxurious, a little indulgent – classic interiors, very comfortable furnishings and spacious rooms, with vases of fresh flowers and piles of books and magazines to enjoy.
And a passion for fresh local produce which remains undimmed.
Dunfermline hotels just don't come better than this.
Hotels in Scotland with this unmistakable personal charm and very real sense of relaxed sophistication and well-being are rare indeed these days – and the proximity of the hotel to Edinburgh makes it a stirring alternative to Edinburgh hotels – if a central Edinburgh location is not important.
The hotel is so convenient too for the M90 motorway to Perth and the north, and a very short drive from Rosyth Super fast Ferry Terminal.
One of the most popular and well respected wedding and conference venues in the East of Scotland, with a legendary reputation as one of the very best Fife restaurants, superb for private parties and dining too – and the Kingdom of Fife and its 'capital' St Andrews awaits – making it perfect for weekend breaks, leisure breaks and golf breaks in the East of Scotland.
Garvock House Hotel Accommodation
Bedrooms:
The hotel's personalized service and 'can do' approach is very well exemplified in our bedrooms and a real home form home feel is our priority for you.
Expect, and enjoy, 26 comfortable, warm and welcoming, well-appointed, expertly serviced en suite bedrooms to suit all types of guests - singles, doubles, twins and spacious family rooms. All are serviced to the highest of standards and are non-smoking.
All with every modern facility, as required by the discerning guest. With many personal touches to reflect the real home from home atmosphere of the hotel - many customers are delighted by its charm and become regulars.
Each room is individually decorated using the high quality fabrics and furnishings to ensure your comfort and relaxation.
You can expect a very flexible approach to your room requirements here. Fluffy towels and extra bedding as standard.
Family rooms complemented by childrens' menus although most of our discerning children prefer the adult menus! And we can arrange anything for you in your room, by prior request, from a lovely bottle of rose or sparkling champagne to enjoy on arrival, to chocolates and fresh flowers for the romantics.
Rooms and Suites:
We welcome you with a smile and hand outstretched. Come in and enjoy warm scones and coffee in the lounge while your luggage is taken upstairs - sweet willingness to make you feel at home and happiness that you are here!
26 comfortable well-appointed non-smoking bedrooms arranged on 2 floors, to suit all types of guests - singles, doubles, twins and spacious family rooms. Tastefully decorated with many thoughtful touches.
VERY lady traveller friendly – very important these days. All with every modern facility, as required by the discerning guest, including private bath/shower room, coffee making facilities, colour television, direct-dial telephone, trouser press and other guest comforts.
The decor of each room is created to exude its own style and character to cater for each individual's discerning taste, using high quality fabrics and furnishings to ensure your complete comfort, personal peace and space, and relaxation.
Wake up to a delicious Scottish breakfast and refresh and re-charge your senses for the day ahead.
All bedrooms have a host of special features to add to the comfort of your stay.
Facilities in the rooms:
Power showers are standard in all bathrooms, each bedroom benefits from a tea and coffee tray, telephone, tv, radio, hair dryer, trouser press, complimentary toiletries and ironing board as well as books, fresh flowers, fluffy bath robes and Hector.
Free Wi-Fi internet access. 12 ground floor rooms with 2 suitably equipped for guests with less mobility - we have a grade 2 Visit Scotland disabled category.
Few hotels in Dunfermline have such extensive amenities, luxuries and comforts at such great value prices. The personal touch is our hallmark and a main reason why guests favour our caring philosophy over the larger, standardised chain or group hotel Often an 'accommodation factory', and come back to visit us time after time.
Business Travel:
We fully recognise the importance of the business of travel. We aim to offer the busy executive traveller the very best of comfort and value, combined with every facility and convenience to make your business trip easy and successful. We help to make your business a pleasure!
For corporate travel in Edinburgh, Fife and the East of Scotland, Garvock House Hotel is such a refreshing change from the downtown city centre large 'corporately' hotel or travel inn. Total flexibility, early and late check-in and out times, very forgiving cancellation policy, and a highly competitive corporate privileged rate available throughout with free upgrades as and when available.
And a personal, friendly approach and welcoming atmosphere awaits modern young executives and business travellers to Edinburgh and Fife, and women travellers too. Perfect for the superb local Carnegie Conference Centre. Pretty convenient too for those attending Edinburgh conferences, conventions and events at EICC (Edinburgh International Conference Centre) – only 40 minutes away –and looking for very accessible, out of city centre hotel accommodation.
Excellent business service and support if, as and when you require it. Country house character, great Scottish breakfasts, personal service and attention, and sincere recognition which the 'big brand' city centre hotels often lack. You are a person, a valued guest here, not a number. A lovely atmosphere awaits you in which to unwind, relax and recharge.
We are delighted to discuss and agree locally negotiated rates for regular business users on a one to one basis, and to discuss advantageous rates structures and corporate accounts with the corporate travel and booking agents both locally, nationally and throughout the UK.
Dining:
Gracious dining in a truly relaxed and peaceful Georgian house - Garvock House is a privately owned hotel, nestled in a woodland setting. It offers good old-fashioned service and personal attention with an excellent, imaginative menu to match. Much of the food is home-made, including the bread and ice cream.
The Garvock House dining rooms are overseen at all times by a highly dedicated and professional team of staff from Britain and all over Europe, bringing a wealth of experience of fine dining and hospitality to all those who work with them.
To dine in our restaurants is an experience to savour for many reasons, not least for the discreet and courteous and attentive service, which perfectly compliments the exquisite cuisine.
Our talented Head Chef heads an enthusiastic professional team, ensuring that dining at Garvock House is an opportunity to enjoy the wonderful, fresh, local ingredients for which this whole area is so well known.
Some of the world's finest beef, lamb and game are naturally-reared and matured on the hills and pastures throughout the surrounding countryside.
Shellfish and fish come from the clear waters around the Moray Firth and Hebridean ports, salmon and sea trout from Highland lochs and rivers. All are cooked with great flair and imagination, with local flavours always shining through.
Weddings at Garvock House Hotel:
Set in 2 acres of beautiful landscaped gardens, perfect for wedding photographs and arrival drinks, where your every need and whim will be our top priority here and we will incorporate a whole array of special touches to just 'make your day'.
The romantic charm and elegance of Garvock House, coupled with delicious food and attentive service makes it such an ideal location for wedding ceremonies and receptions.
A superb setting for photographs. Private and secluded. Unique and memorable. Romance and Garvock House are synonymous.
For ceremonies and receptions, Garvock House Hotel is a remarkable venue of great class and style. Realize your dream of a fairytale Scottish wedding - in the perfect setting for a magical celebration. From the ceremony (in the hotel if you wish, civil or religious), to the strains of a traditional piper welcoming the guests, memorable photographs in spectacular settings, and stunning food with great entertainment. Garvock House Hotel provides the authentic total Scottish wedding experience.
And booking a wedding here is not the customary frustrating experience, nor the anonymous transaction. All our friendly staff are there for you to ensure that from the time you call on us until the moment you leave our care, a wedding at Garvock House Hotel is a memorable, very individual experience.
We love and always look forward to our weddings here at Garvock House - each is as special a day to us as it is to you.
We believe that the secret is a strong partnership between ourselves and the bride and groom, using a combination of their ideas and wishes with our knowledge and expertise to create something truly special and individual. Your arrangements will receive our undivided attention and through care from planning to the special day itself.
Local Area:
Experience the living past in ancient Dunfermline, Walk through 900 years of Scottish history in a day.
Dunfermline 's royal and monastic past dominate the town which can boast a royal palace, a 12th -century abbey (which is the final resting place of Robert the Bruce and the burial site of eleven other Scottish kings and queens), the restored 15th-century Abbot House and the cave in which St Margaret bathed the feet of the poor.
King Malcolm Canmore established his court after the death of Macbeth at the now ruined fortified tower in the heart of Pittencrieff Glen. Dunfermline was the birthplace of James I in 1394 and of Charles I in 1600.
It is also the birthplace, in 1835, of philanthropist Andrew Carnegie, and the Carnegie Trust has benefited the town greatly. The first of many Carnegie Libraries was built here in 1881 and both Carnegie Hall and Pittencrieff Park were gifted to the town by the 'Star-spangled Scotchman'.
Carnegie's birthplace, a humble weaver's cottage has been preserved and extended to include a museum of his life.
Close by is the Royal Burgh of Culross, with its picturesque 17th century cottages, now fully restored. Meander through the cobbled streets skirting the Firth of Forth shoreline, overlooked by the red pan-tiled roofs of the harled whitewashed cottages. Culross was the birthplace of St Mungo, patron saint of Glasgow.
Along the coast lies Limekilns, the ancient port of the Benedictine monks of Dunfermline. Follow the coastal walkway east, past the magnificence of the Forth Bridges, to Aberdour, with its fine castle, granted by Robert the Bruce to his nephew in the 14th century.
Location of Garvock House Hotel:
Garvock House Hotel stands in splendid seclusion, yet it is only minutes from Dunfermline town centre.
The hotel overlooks over 2 acres of quite glorious private gardens and grounds and has an attractive, elevated and secluded wooded setting.
It's a very pretty setting for a hotel with an undeniably handsome appearance. Arriving at night you'll find the buildings attractively lit and welcoming. Huge attractive garden and patio areas for al fresco wining and dining await you.
Dunfermline (in Gaelic, Dun Phairlin) is a town and former Royal Burgh in Fife, Scotland. It sits on high ground 3 miles from the shore of the Firth of Forth, northwest of Edinburgh.
The town is a historic capital of Scotland.
King Robert the Bruce is buried within Dunfermline Abbey, which is situated in the town. The town is intersected from north to south by the picturesque Pittencrieff Park, from which the town derives its name and at the bottom of which flows Lyne Burn.
Dunfermline has a population of 43,760, however the Settlement of Dunfermline, which also includes the localities of Crossgates, Dalgety Bay, Halbeath, Inverkeithing, North Queensferry and Rosyth, has a population of 75,570, making it the 6th largest settlement in Scotland.
Dunfermline is continuous with the town of Rosyth which is a former naval base and dockyard – also the Scottish home of Superfast Ferries.
Garvock is an area to the east of Dunfermline. It is wholly residential and is centred around Garvock Hill. Garvock is separated from Touch by the Fife Circle Line. East End Park, home to Dunfermline Athletic is nearby.
Directions to Garvock House Hotel:
From the South & North
Exit M90 at Junction 3, Halbeath Interchange, turn left at roundabout taking the A907 towards Dunfermline town centre. After the football stadium on the right hand side, take the next left (Garvock Hill) and immediately turn first right into St John's Drive. Garvock House is 500 metres on the right hand side.
From the West
Take the A994 into Dunfermline. Travel straight through the town, through 5 sets of traffic lights. At Sinclair Gardens roundabout, take the second exit marked M90 and then take the fourth road on the right hand side, Garvock Hill. Immediately turning up Garvock Hill, take the first right into St. John's Drive. Garvock House is 500 metres on the right hand side.
History:
Dating back over 200 years the house was built as a family home - Transy House sitting in its own estate.
There have been various owners, although latterly it was in one family for nearly one hundred years. William Mungall bought the house in 1889 as a family home and started the world famous Transy Stud from the estate.
Throughout the 1900's the estate lands were sold and eventually so was the house itself.
Transy House, or Garvock House as it is currently known, was taken over by the present owners in 1996 and completely refurbished to convert it into a small hotel.
Care and attention has been given in combining the wealth of original features with every modern facility to ensure a comfortable and relaxing stay for all.
Email Garvock House Hotel enquiries & reservations: bookscotland@madbookings.com