Places to stay
Dalbeattie
Hotels and Inns
Bed & Breakfast - Guesthouse

Kerr Cottage Bed and
Breakfast


Trewan

Self Catering and Cottages

Barclosh Farm


Bracken Cottage (Colvend)


Castle Point Caravan Site -
Self Catering


Elm Cottage Holidays


Galloway Country Cottages


Glenearly Caravan Park
Self Catering


Glenstocken Holiday
Cottages


Kenmuir Apartment


Kippford Forest Lodges


Little Solway


Oakwood Lodge (Colvend
Coast)


Rocky Knowe


Southerness - Parkdean
Holidays
Camping Caravan Hostel

Barlochan Caravan Park


Beeswing Caravan Park


Castle Point Caravan Site


Coastal Kippford


Glenearly Caravan Park


Kippford Holiday Park -
Touring


Lighthouse Leisure


Park of Brandedleys
Holiday Park


Sandyhills Bay Holiday
Caravans


Sandyhills Bay Leisure Park



Welcome to Dalbeattie Scotland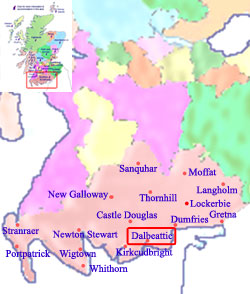 Dalbeattie is a Scottish town in Dumfries and Galloway, situated in a wooded valley on the Urr Water 4 miles east of Castle Douglas and famed for its granite industry. Today Dalbeattie makes most of its income from tourism and service industries.
The name 'Dalbeatha' means 'Vale of the Birches'. Many birches grow in
the valley of the Urr, which remains a relatively unspoilt and beautiful part of Scotland. Dalbeattie occupies a focal position in the road network serving the coastal communities along the north side of the Solway Firth, and provides a useful base from which to explore this fascinating area of Scotland.
The town of Dalbeattie itself is the home town of William McMaster Murdoch First Officer of the RMS Titanic. The remains of a number of bronze and iron age hillforts have been found on the high ground flanking the valley of the Urr Water. There are also indications of a Roman fort in the shelter of Buittle Hill, on the west side of the Urr Water opposite the site of Dalbeattie. This probably served to defend a port on the Urr Water which used to supply the Romans in their military excursions into Scotland.

Accommodation in and around Dalbeattie
Price Guide - per person based on sharing room:

under $40 -
$41 - 70 -
more than $70
Kenmuir Apartment
Dalbeattie
Kenmuir offers magnificent scenery, some of the finest beaches and golf courses in Scotland, riding, fishing and water sports. A peaceful holiday location in South West Scotland.
More Information
Email Hotel
Price Range

Galloway Country Cottages Dalbeattie
At Galloway Country Cottages we offer 5 luxury Self-Catering holiday lodges for families, couples and groups at Sandyhills Bay
on the beautiful Solway Coast.
More Information
Email Hotel
Price Range

Little Solway
Dalbeattie
A comfortable, very well equipped semi-detached cottage overlooking the Solway Firth. The entrance vestibule, has views over the Solway to the hills of the Lake District.
More Information
Email Hotel
Price Range

Bracken Cottage (Colvend) Dalbeattie
We are situated on the Colvend coast, an area of outstanding natural beauty and an ideal centre for touring with interesting gardens and historical sites within easy reach.
More Information
Email Hotel
Price Range
Elm Cottage Holidays
Dalbeattie
Welcome to the Solway Firth! Elm Cottage is an idyllic spot on the Solway Firth for a holiday. The Solway coast area has lots to do and see from castles to golf and sailing.
More Information
Email Hotel
Price Range

Southerness - Parkdean Holidays
Take a stroll from your front door to the beach and enjoy magnificent views over the Solway Firth to Cumbria. Explore the Galloway coast and countryside or try out our fantastic 25m pool.
More Information
Email Hotel
Price Range

Sandyhills Bay Holiday Caravans Dalbeattie
Situated in an area of outstanding natural beauty,
the Park is secluded, intimate and immaculately maintained; it's ideal for a relaxing, peaceful holiday beside the sea.
More Information
Email Hotel
Price Range

Rocky Knowe
Dalbeattie
An excellent base for a family holiday being within a short drive of the popular holiday and coastal villages of Rockcliffe and Kippford and the vast beach at Sandyhills.
More Information
Email Hotel
Price Range
Castle Point Caravan Site - Self Catering
Castle Point is a small coastal site near Rockcliffe village in Galloway. It is in a National Scenic Area and has consistently received a 4 star rating from the Scottish Tourist Board.
More Information
Email Hotel
Price Range

Kippview
Dalbeattie
The lodge is only a mile from Scotland's Biking Heaven The 7stanes course at Dalbeattie Forest and with another 4 of the 7 Stanes in close proximity, Glentrool, Mabie, Kirroughtree and Ae.
More Information
Email Hotel
Price Range

Sandyhills Bay Leisure Park Dalbeattie
Sandyhills Bay is situated in an area of outstanding natural beauty, sitting at the foot of wooded hills and close to a sheltered sandy beach, which is one of the finest in the area.
More Information
Email Hotel
Price Range

Lighthouse Leisure
Dalbeattie
Set in well-maintained
lawns with tarred roads, the park is less than two
minutes' walk from the
beach and lighthouse. Immediately adjacent is a shop and bus station.
More Information
Email Hotel
Price Range
Trewan
Dalbeattie
Trewan is a 300 year old traditional granite cottage on the edge of Dalbeattie Forest, with immediate access to the forest and the 7 Stanes Mountain
Biking Trails.
More Information
Email Hotel
Price Range

Park of Brandedleys Holiday Park

Set within 24 acres of the beautiful Dumfries and Galloway countryside, this is a superb location from where to explore the the nearby Solway Coast or to just to relax and unwind.
More Information
Email Hotel
Price Range

Oakwood Lodge (Colvend Coast)
The lodge enjoys stunning views across the Solway Firth to the Lake District. Situated on a family run farm, it is a perfect get-away for those seeking a return to the great outdoors.
More Information
Email Hotel
Price Range

Barlochan Caravan Park Dalbeattie
Welcome to Barlochan! Barlochan is placed on a wooded hillside in a wonderful rural location
with magnificent views over the Urr Estuary on the Solway Coast.
More Information
Email Hotel
Price Range
Kippford Holiday Park
Dalbeattie

One of the most beautiful holiday parks in Dumfries and Galloway, the perfect holiday location for those who wish to avoid the "indoor attractions" of resort locations.
More Information
Email Hotel
Price Range

Glenearly Caravan Park
Dalbeattie
Situated in 100 acres of open countryside just outside of Dalbeattie amid the magnificent scenery to be found in Dumfries and Galloway and enjoys panoramic views.
More Information
Email Hotel
Price Range

Kippford Holiday Park - Touring Dalbeattie
The Park offers lovely views of the surrounding Galloway hills. Our private woodland includes an 8000 year
old bluebell area and a breeding Red Squirrel population.
More Information
Email Hotel
Price Range

Castle Point Caravan Site Dalbeattie
Rockcliffe and Castle Point beaches are a short walk away. An ideal base from which to set out on foot to explore the magnificent and tranquil scenery of the Solway Firth coast.
More Information
Email Hotel
Price Range
Barclosh Farm
Dalbeattie
Our cottages are on a small Galloway farm offering stunning views of the surrounding countryside. Many species of birds, frequent the farm and Roe Deer are often spotted.
More Information
Email Hotel
Price Range

Kerr Cottage Bed and Breakfast Dalbeattie
Although it was built 165 years ago, it has been lovingly refurbished with all 3 guest bedrooms having quality fixtures and fittings together with modern ensuite facilities.
More Information
Email Hotel
Price Range

Glenstocken Holiday Cottages Dalbeattie
Glenstocken is situated on the Galloway coast between Sandyhills beach and the picturesque village of Rockcliffe. We offer two delightful, family friendly holiday houses.
More Information
Email Hotel
Price Range

Beeswing Caravan Park
Dalbeattie
Spacious, sheltered, tranquil, rural, informal parklands setting. surrounded by abundant wildlife. Family run, friendly and clean.Well placed to enjoy town or country.
More Information
Email Hotel
Price Range
Kippford Forest Lodges Dalbeattie
Kippford is regarded the loveliest seaside village in South West Scotland. The holiday location for those who wish to avoid the "indoor attractions" of resort locations.
More Information
Email Hotel
Price Range

Glenearly Caravan Park Self Catering Dalbeattie
Glenearly is ituated in 100 acres of open countryside just outside the town of Dalbeattie and enjoys panoramic views taking in Long Fell, Maidenpap and Barhill Forest.
More Information
Email Hotel
Price Range

New Hotel
Dalbeattie

More Information
Email Hotel
Price Range

New Hotel
Dalbeattie

More Information
Email Hotel
Price Range