Places to stay
Cupar
Hotels and Inns
Bed & Breakfast - Guesthouse

Edenshead Stables


Greenlaw House


Scottish Farmhouse Holidays
Self Catering and Cottages

Cedar Cottage


Creich Farmhouse


Forester's Cottage


Garden Cottage


Gardener's Cottage


Loanfoot Cottage


Lodge of Mountquhanie


Mountquhanie Farmhouse


The Dairy House


The Gillespie House


St Andrews Country
Cottages


St Andrews Garden House
Camping Caravan Hostel

Letham Feus Holiday Park Self Catering
Welcome to Cupar Scotland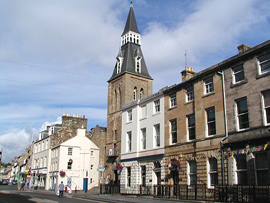 Cupar is a town in Fife, Scotland. The town is approximately equidistant between the larger city of Dundee and the New Town of Glenrothes.
According to a recent population estimate, Cupar had a population around 8,980 making the town the ninth largest settlement in Fife.
For much of the past millennium Cupar was the county town of Fife. It inherited this role from the coastal village of Crail in 1214 but lost that title to the new town of Glenrothesl in 1974.
Much of the early wealth so evident in the buildings you see in Cupar today was based on the wool trade, and on the town's central location as a market serving a large part of eastern Fife.
The early nineteenth century saw Cupar as a centre for financial services, despite the failure through mismanagement of the Fife Banking Company in 1825. A new county headquarters was built in 1817, and the local newspaper, the Fife Herald, was founded in 1822.
By 1825, Cupar was home to four breweries, none of which remain in production today.

Accommodation in and around Cupar
Price Guide - per person based on sharing room:

under $40 -
$41 - 70 -
more than $70
Creich Farmhouse
Cupar
Tucked away in the hills and woodlands 5 miles north of Cupar on the Mountquhanie Estate is Creich Castle Farmhouse. The property is located on historic Creich Farm with glorious views over the surrounding unspoilt countryside.
More Information
Email Hotel
Price Range

Forester's Cottage
Cupar
Forester's Cottage is situated amidst the gentle, unspoilt countryside of Mountquhanie Estate, tucked away in the hills and woodland 5 miles north of Cupar. Though next to a quiet country road, its secluded setting affords glorious views.
More Information
Email Hotel
Price Range

St Andrews Country Cottages Cupar
Hidden away in a small cul-de-sac of historic St Andrews, at the west end of town, are two period town-houses. They are quiet and safe for children, yet close to shops and less than 5 minutes walk from the Old Course and the West Sands.
More Information
Email Hotel
Price Range

Loanfoot Cottage
Cupar
Loanfoot Cottage is situated amidst the gentle, unspoilt countryside of Mountquhanie Estate, tucked away in the hills and woodland 5 miles north of Cupar. Tastefully modernised to form a spacious, oil centrally heated property.
More Information
Email Hotel
Price Range
Edenshead Stables
Cupar
Edenshead Stables Bed and Breakfast in Gateside, Fife, is a 5 Star Luxury B&B, in an idyllic riverside location. Guests will appreciate the wonderful location, looking up to the Lomond Hills and the river Eden flowing by at the foot of the garden.
More Information
Email Hotel
Price Range

Mountquhanie Farmhouse Cupar
Amidst the gentle, unspoilt countryside of Mountquhanie Estate, tucked away in the hills and woodlands 4 miles north of Cupar is Mountquhanie Farmhouse. This traditional Scots farmhouse has been tastefully modernised.
More Information
Email Hotel
Price Range

Cedar Cottage
Cupar
Cedar Cottage is situated amidst the gentle, unspoilt countryside of Mountquhanie Estate, tucked away in the hills and woodland 5 miles north of Cupar. Its secluded setting affords glorious views over the valley below and the countryside beyond.
More Information
Email Hotel
Price Range

The Dairy House
Cupar
The Dairy House is on the ground floor of Mountquhanie House, an early 19th Century country house five miles north of the market town of Cupar in Fife. In 2009 it was completely refurbished and modernised with central heating added.
More Information
Email Hotel
Price Range
Letham Feus Holiday Park Self Catering
Welcome to Letham Feus Park, Fife. Situated only 3 miles from the sandy beaches of Lundin Links and Leven, and in the heart of the 'Home of Golf' with breathtaking views over the Forth Estuary to the south and woodland to the north.
More Information
Email Hotel
Price Range

Greenlaw House
Cupar
Greenlaw House, Collessie, Fife is a spacious converted steading with stunning views over the Howe of Fife towards the Lomond hills. Tastefully furnished decorated in a mix of contemporary and antique styles, the house offers great comfort to its guests.
More Information
Email Hotel
Price Range

St Andrews Cottages Garden House Cupar
With a hint of luxury, the garden house forms the West Wing of Mountquhanie House. The Garden House has been tastefully modernised to form a spacious, centrally heated property approached through a sun trapping conservatory.
More Information
Email Hotel
Price Range

Gardener's Cottage
Cupar
Gardener's Cottage is reached along a private estate road. It is a charming cottage constructed from local whin stone, sandstone lintels and jambs. The entrance porch leads into a central study, a perfect room for sitting and reading.
More Information
Email Hotel
Price Range
The Lodge of Mountquhanie Cupar
Originally the gate house to Mountquhanie, its private setting affords a pretty outlook over rolling parkland. The Lodge is situated amidst the gentle, unspoilt countryside of Mountquhanie Estate, tucked away in the hills and woodlands 5 miles north of Cupar.
More Information
Email Hotel
Price Range

The Gillespie House
Cupar
This beautiful example of Georgian architecture, set within its own rolling parkland, contains three self-contained apartments, each with their own private entrance. The Gillespie House, on the ground floor, has been tastefully modernised.
More Information
Email Hotel
Price Range

Garden Cottage
Cupar
Located at the heart of Kinloss Estate by Cupar, Garden Cottage is a beautiful, stone-built, traditional cottage built in the early 19th century. Now available for let as a holiday cottage offering excellent self catering accommodation for a family of four.
More Information
Email Hotel
Price Range

Scottish Farmhouse Holidays Cupar
Choose from over 50 comfortable Bed & Breakfast or self catering cottages on working farms and crofts. All offer a warm welcome and delicious food prepared from the freshest natural ingredients. The farmhouses vary from grand houses to small friendly family homes.
More Information
Email Hotel
Price Range