Places to stay
Callander
Hotels and Inns
Dalgair House Hotel

Dreadnought Hotel

Poppies Hotel

Roman Camp Country House Hotel
Bed & Breakfast - Guesthouse
Almardon

Annfield Guest House

Corriemar

Lubnaig House

Riverview Guest House

Roslin Cottage

Southfork Villa

Straid House

The Knowe Guest House

Westcot Guest House

Westerton
Self Catering and Cottages
Auld Toll Cottages

Braeview Self Catering

Brook Linn Cottage

Frennich House

Kilravock

Ledi View

Leny Estate Self-Catering

Letter Steading

Lime Tree Cottage

Mid Torrie Farm

The Lodge
Camping Caravan Hostel
Welcome to Callander Scotland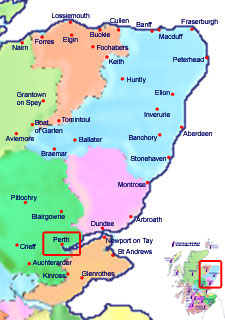 In the Loch Lomond & Trossachs National Park in Scotland,
Callander is a lively and bustling highland town & tourist resort The largest town in the National Park, it has a great range of shops, gift shops, woollen shops and amenities .
Callander is a burgh in the region of Stirling, Scotland, on the River Teith. The town is located in the former County of Perthshire, and is a popular tourist stop to and from the Highlands.
The town serves as the eastern gateway to the Loch Lomond and the Trossachs National Park, the first National Park in Scotland. Due to its location it is often referred to as the "Gateway to the Highlands". The former St. Kessog's Church is now the Rob Roy Centre, offering tourist information for the area.
Dominating the town to the North are the Callander Crags, a visible part of the Highland Boundary Fault, rising to 343m at the cairn. Local walks include Bracklinn Falls, The Meadows, Callander Crags and the Wood Walks. The town sits on the Trossachs Bird of Prey Trail.
Callander railway station opened on 1 June 1870 and closed on 5 November 1965. The former Callander and Oban Railway line is now part of the National Cycle Network (route 7) and the Rob Roy Way.
Callander achieved prominence during the 1960s as the setting "Tannochbrae" in the TV series Dr Finlay's Casebook.
You'll find Callander in Scotland about 15 miles north west of Stirling on the edge of the highlands at the southern end of the Pass of Leny.
On the edge of the Highlands this photographer's dream of mountain scenery and lochs to east, west and north and south, has convenient easy access to and from the main cities and tourist attractions of the central belt.
Accommodation in and around Callander
Price Guide - per person based on sharing room:

under $40 -
$41 - 70 -
more than $70
Leny Estate Self-Catering Callander
The home of the Buchanan Family for over 1,000
years! This highland
estate contains a unique location for selfcatering holidays in the historic
Leny House.
More Information
Email Hotel
Price Range

The Knowe Guest House Callander
Built at the beginning of the twentieth century and enjoying many original Victorian and Edwardian features. The Knowe has been a Guest House for over 25 years.
More Information
Email Hotel
Price Range

Lubnaig House
Callander
The Lubnaig House bed and breakfast is a small country house situated in an area surrounded by outstanding scenery, in the 'Heart of Scotland', an excellent touring location.
More Information
Email Hotel
Price Range

Westerton
Callander
Escape to the elegant comfort of this lovingly restored Scottish Victorian home in Callander, Scotland, gateway to The Loch Lomond and Trossachs National Park.
More Information
Email Hotel
Price Range
Auld Toll Cottages
Callander
The cottage is situated in a semi rural location at Kilmahog about ½ mile west of Callander, 200 yards from the Lade Inn country pub and close to 2 woollen mills which have tea rooms.
More Information
Email Hotel
Price Range

Frennich House - Self Catering Callander
Frennich House is centrally located in the Loch Lomond and Trossachs National Park. It enjoys the atmospheric sight and sound of the River Turk within its boundary.
More Information
Email Hotel
Price Range

Letter Steading, Loch Katrine Callander
Situated on the private road of Loch Katrine on the north shore about three miles from the Trossachs Pier where the SS Sir Walter Scott andLady of the Lake make frequent sailings in summer.
More Information
Email Hotel
Price Range

Poppies Hotel & Restaurant Callander
On our doorstep lies the wealth of activities, attractions, and the romance for which the Loch Lomond and Trossachs National Park area of Scotland is rightly famous.
More Information
Email Hotel
Price Range
Ledi View
Callander
Local shops, the Meadows Park and river front are within a few minutes
walking distance. Ideal
base for exploring The Trossachs and National Park.
More Information
Email Hotel
Price Range

Corriemar
Callander
Corriemar is situated as you enter Callander, a two minute drive, or a ten minute stroll into the centre of town, surrounded by beautiful views of Ben Ledi, the Crags and the river Teith.
More Information
Email Hotel
Price Range

Straid House Bed and Breakfast Callander
A family run georgian house providing bed and breakfast accommodation on the outskirts of callander at the gateway to
Trossachs in scotlands
first national park.
More Information
Email Hotel
Price Range

Westcot Guest House
Callander
We are located in Callander in the Trossachs, the gateway to the Highlands! Our lovely family home is perfectly poised for venturing further north or for the needed weekend getaway.
More Information
Email Hotel
Price Range
Roslin Cottage
Callander
Our 17th Century
cottage sits at the edge
of the town, with
country walks leading
up to the cycle track
and down to the
River Teith.
More Information
Email Hotel
Price Range

Brook Linn Cottage
Callander
This modern cottage is
set in the corner of the garden of a large Victorian country house. It faces South and has open
views to the Menteith
Hills.
More Information
Email Hotel
Price Range

Dalgair House Hotel
Callander
Dalgair House Hotel in Callander is a family run hotel centrally situated in Perthshire's main tourist resort of Callander in the Loch Lomond and The Trossachs National Park.
More Information
Email Hotel
Price Range

The Lodge
Callander
Enjoy the peace and
quiet of this Highland estate, in the beautiful Trossachs countryside, explore its woodlands
and riverbanks where
wild life abound.
More Information
Email Hotel
Price Range
Mid Torrie Farm
Callander
Situated on edge of beautiful and scenic Trossachs
(Rob Roy Country), and the new Loch Lomond & Trossachs National Park with forests, lochs and mountains.
More Information
Email Hotel
Price Range

Southfork Villa
Callander
We are situated in a quiet Cul-de-sac in the centre of Callander and close to all amenities. The Callander Crags and Queen Victoria's Monument can be seen from the rear of the house.
More Information
Email Hotel
Price Range

Lime Tree Cottage
Callander
Located in the heart of Callander, close to the Rob Roy visitors centre. Nearby is a tree lined square where the local bagpipe band sometimes plays in summer evenings or weekends.
More Information
Email Hotel
Price Range

Dreadnought Hotel
Callander
The Dreadnought Hotel
was originally built in the 17th Century by the Chieftain of the clan, McNab, as a hostelry
for his fellow clansmen travelling to the north.
More Information
Email Hotel
Price Range
Almardon
Callander
Almardon is located in a peaceful location in Callander which is part of the Loch Lomond & Trossachs National Park. It is only a 3 minute walk from restaurants and shops.
More Information
Email Hotel
Price Range

Gart Caravan Park
Callander
Situated within the Loch Lomond and Trossachs National Park the Gart is an award winning peaceful and spacious mature parkland setting catering for Touring Caravans and Motorhomes.
More Information
Email Hotel
Price Range

Riverview Guest House
Callander
This is an attractive guest house which has been in the same ownership since 1983. It is situated in its own grounds, on the west side of Callander within walking distance of the town centre.
More Information
Email Hotel
Price Range

Annfield Guest House
Callander
Annfield is the epitome of a Victorian country house with i high ceilings, period details and relaxed atmosphere you are taken back to that bygone time when life was not quite so hectic.
More Information
Email Hotel
Price Range
Braeview Self Catering Callander
Being adjacent to footpaths to the open countryside behind yet within five minutes walk to the town and the riverside park it is an ideal location for activities as well as essential facilities.
More Information
Email Hotel
Price Range

Roman Camp Country House Hotel Callander
The hotel is located in the scenic village of Callander, about 15 miles west of Scotland's historic city of Stirling, in an area more affectionately referred to as 'Braveheart Country'.
More Information
Email Hotel
Price Range

Kilravock
Callander
Kilravock, situated in Rob Roy country, is located in Bridgend, which historically is the oldest part of Callander, only a minute's walk from the town centre or countryside.
More Information
Email Hotel
Price Range

New Hotel
Callander

More Information
Email Hotel
Price Range