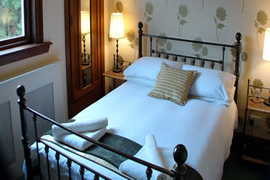 Far enough away from the centre of Brodick to have peace and quiet but close enough to enjoy all the amenities within a few minutes walk. Mountain bike trails and walks start from just outside our door.
The Glenartney is a much loved guesthouse, she's been completely refurbished over the last few years with major internal renovations happening winter 2009/2010. We have tried to maintain the character
of the building but have given her a complete facelift!
The Glenartney Accommodation
Our selection of 11 bedrooms can cater for families, couples, or for single use. The rooms are very tastefully decorated and set with comfortable furnishings, but as befitting a mid 1920's house, they are not overly spacious. We do have very nice quiet lounges where you are very welcome to sit and relax at any time.
Each room is comfortably appointed with high quality bedding for a comfy night's sleep.
· Flat screen TV
· Tea and coffee making facilities
· Hair dryer
· Arran Aromatics Pure range of toiletries are available in the ensuites.
Our rooms are all to the same high standard, they are all slightly different and have shower ensuites. There is a house bathroom if a bath is needed after an energetic day.
We have two lovely lounges where you can relax through the day and evening. The front lounge is the perfect place to relax and plan you adventures whilst enjoying the views across the bay to the hills beyond. You are very welcome to help yourself to tea and coffee from the lounge throughout the day and evening.
Our small resident's bar offers Arran beers and whisky as well as many other beers and spirits. It is open for a few hours each evening for our guests only to enjoy whilst sitting in the lounge or out in the garden.
There's free Wi Fi available throughout most of the guesthouse - if you want to borrow a laptop just let us know!
Glenartney is full of artwork and quirky details such as Arran artist Nigel Walker's "Brook's Stag".
The Staircase has been decorated with an unusual wallpaper from a Scottish design company who have collected various holiday snaps from the 1920's and 30's.
The Glenartney was built as two houses and a summer house in the mid 20's and was first established as an 'upmarket boarding house' in the early 1930's
Breakfast at the Glenartney will set you up for your day. We offer among other delights porridge and full cooked Scottish breakfast using Arran's fresh produce. Wooley's of Brodick potato scones and Galbraith of Blackwaterfoot sausages.
Homemade marmalade, Arran Provision's jam and honey along with dairy produce from Arran Dairies . If we are unable to use 'island trade' products we then try to source fair trade.
Breakfast is between 8.30 and 9.30am. Earlier cold buffet style breakfast and packed lunches can be ordered the night before.
The Glenartney has everything an outdoor enthusiast could need with a drying room and boot dryers secure storage for all outdoor and golf gear and bikes. We have bike repair and wash facilities, there's even a bike mechanic on site!
As we are a quiet family guesthouse we do not accept large groups, stag, hen or party revelers and ask that our guests show consideration for others by lowering noise levels to a minimum after 11.00pm.
During the busy season - Bank holiday and weekends - we do ask for a minimum stay of two nights.
Dining
· Early Breakfast By Arrangement
· Packed Lunch By Arrangement
Speciality Diets
· Vegetarian Meals Available
Child Policy
Children Welcome
Children under 2 years are free of charge.
Doggies at the Glenartney
. There's a doggy charge per stay per dog and they can stay for a maximum of 4 nights.
. Only 1 doggy per room and a maximum of 2 in the Glenartney at any one time.
. There's a doggy charge per week stay.
Dear Doggy Friends
Arran is a wonderful place to come on your holidays, there are lots of lovely walks and beaches to explore with your owners. There is a great off road walk for early morning and late evening straight from the door. lots of sniffing and foraging opportunities.
Our doggy guests have their own towels for drying wet paws and some biscuits on arrival. There's a hose for washing down dirty fur after a day of fun - please have a good shake and dry off before coming inside! Zak is often waiting outside the front door with a selection of toys, he's more interested in the guests who can throw toys than in canine ones! He'll probably come and sniff and then ignore you.
We love having well behaved dogs to stay with us but if you bark a lot or do other naughty things that disturb our guests you may have to leave. If our other guests are happy for you to relax in the lounge please feel free to stretch out and snooze.
The only place you can't go is probably the one place you'd love to be - where the sausages are.
Sorry the breakfast room is out of bounds. If your owners ask- there may be an extra piece of sausage going spare after breakfast if your diet allows. You can stay in your bedroom whilst owners have breakfast -if you are happy to do so- we don't want you to get upset.
Please use plastic bags we provide in your room for 'you know what' - not just in the garden, but elsewhere on the island. We have a good supply of bags if you run out. They are also supplied free at the library.
Please ensure that your owners have had you fully inoculated etc before their stay with us. Don't forget your bowls and bedding, but we can sort something out if you do!
Woodlea Self Catering Cottage
Woodlea is a fantastic 2 bedroomed home, accommodating 4-5 people. It is set in it's own private grounds with lovely views towards the bay and Goatfell. Being peacefully situated just beside the Glenartney it is very convenient for the amenities Brodick has to offer. Read some of our guest comments.
The accommodation consists of;
· 1 double bedroom
· 1 twin bedroom (there's a pullout bed - making a large double and a single bedded room)
· A large comfy lounge with flat screen TV.
· A dining area with patio doors leading onto the back garden and the wonderful views
· A well equipped kitchen looking out to Goatfell and Brodick Bay.
Included in the kitchen is;
· A dishwasher
· Electric cooker
· Fridge with small freezer box.
· Microwave
· Filter coffee maker
· Washing machine and tumble dryer
Bathroom with electric shower over bath and a useful extra cloak room. There is electric heating through out the property. Bed linen, house towels, tea towels, washing up liquid and dish washer tablets are provided.
We also provide a mid week towel change and house refresh.
The fully enclosed back garden is full of beautiful shrubs, plants and there's even a little herb garden for guests to use.
Transportation Facilities
· Free Parking On-Site
Attractions and Activities
Rising dramatically from the sheltered waters of the firth of Clyde, Arran is dominated by the sweeping slopes of Goat Fell. Arran is a fascinating island which lies on the Gulf Stream and casts it's unique magic on all it's visitors.
Big enough to offer a wide variety of activities yet small enough to retain it's truly special island atmosphere. Arran is rich in evidence of the ancient past with Standing Stones, Iron Age forts and dinosaur footprints.
For a leisurely day why not sample tea and cakes on the patio at Brodick Castle, take a trip back in time at the Heritage Museum, take a tour around the distillery or visit Holy Isle in Lamlash Bay.
Biking
Arran is full of wild natural bike trails, there's so much to explore in stunning mountain and coastal scenery. The trails here have evolved over time, unlike most bike centres they are not man made. There's plenty to choose from too - gentle forest roads to steep technical single tracks.
If you plan to ride here have a word with Miles who'll give you a bit of local knowledge. Arran roads are quiet apart from in Brodick when the boat comes in. The further you venture away from Brodick the quieter it becomes. The roads are narrow and can be a little bumpy so take your time.
The only flat stretch out of Brodick is north through Corrie to Sannox, in every other direction you will meet a climb- but for every up there's a down! You will be rewarded with staggering views. There are short routes incorporating some forest roads or you can challenge yourself to the single day around the island classic.
There's one escape route across the island on the String Road - but that by no means the easy option!
Glenartney has safe bike and gear storage as well as a bike wash, Miles has a shed full of tools and can sort out most mountain bike repairs. Just let him know if your bike needs a service. If it does rain we have a drying room for all your kit.
Bikes can be hired from a variety of businesses on the island including Arran Power and Sail a and Arran
Adventure.
Golf
There's something very special about playing golf on Arran. We have 7 courses all very different not only in terrain and landscape but also in the number of holes - 18, 9 or even 12- take your pick! All will give you a warm welcome, and remind you of the time when golf was fun.
The Brodick course is just a few minutes walk away from the Glenartney Enjoy the mountain and sea views under the watchful eye of Brodick Castle. It's 18 holes are a mixture of parkland and coastal, providing a stern test for the mid-handicap golfer as well as a refreshing challenge for beginners or single-figure players alike.
With a Par of 61, Brodick plays to 4,332 yards it can be a tougher test than it's figures might suggest.
Other activities
There's so much to do on Arran you really are spoilt for choice. As well as the outdoor activities there's much to do inside at the Auchrannie Spa with a sports hall and swimming pool that is open to the public for all but a few hours a day.
You can make soap at the Soap factory or pottery at The Balmichael Centre in Shiskine.
There's pony trekking in North Sannox, over the hills and beaches offering an incredible day for families and novices. For the more advanced riders there's a riding centre at Blackwaterfoot.
Arran Adventure offer gorge walking, archery, mountain bike guiding and kayaking. Many of our guests have enthused about their kayaking experiences and the sea life that they have seen. Why not try paragliding with Flying Fever see Arran from a different perspective.
For high adrenaline without much effort try the rib rides at Arran Power and Sail in Brodick or Ocean Breeze in Lamlash. Arran Power Sails trip out to Pladda is memorable, the bird life is completely breathtaking with puffins and gannets flying all around the boat. If you time the trip right you may catch some of the Caledonain Isles waves - great fun!
Hands on Hawking gives you a taste of flying birds of prey. We have the Scottish Hawking Club stay with us at the end of September, their birds rest in our garden at the end of the day, it's an incredible sight to be so close to such mighty birds.
Fishing permits are required to fish on Arran's rivers, these can be obtained at the Tourist Office in Brodick. Mackerel fishing trips can be organized with the Holy Isle ferry company. Some of the activities can be very popular so it is better to book in advance of your stay.
DIRECTIONS
How to get to Arran:
Calmac sails from Ardrossan to Brodick. This is the main way to get to Arran. There is a car park at Ardrossan if you decide not bring a car over (car and bike hire is available on Arran). There is also a route from the North- Clonaig to Lochranza.
The Ardrossan Harbour train from Glasgow Central links in with the ferry- very convenient, economical and easy. Just take your bike on this train so the conductor told me- check this!!!
Easy jet fly from Glasgow Airport, there's an airport bus to Paisley Gilmore Street station which allows you to jump on the Ardrossan harbour train. Ryan Air fly from Prestwick, just get on the train at the airport to Kilwinning and change for Ardrossan Harbour.
Taxi to Arran Ferry This taxi company can be pre booked to take you directly to the ferry from Glasgow Airport. Airport Transfers to and From the Arran Ferry to all Scottish Airports
Getting there from the Information Centre:
Turn right, out of Brodick Pier (Head North on A841), take the third turn on the left (directly before Brodick Co-Op) (Alma Rd).
Continue up steep hill and pass Arran Homes office on left hand side, then take third road on the left, Glenartney is on the left hand side. (Alma Rd continues down to main Rd passing Post Office on left hand side, TIP: If you get as far as post office you have missed the turn).
Email The Glenartney enquiries & reservations: bookscotland@madbookings.com