Places to stay
Aberfeldy
Hotels and Inns

Atholl Arms Hotel
Bed & Breakfast - Guesthouses

Dalgreine Guest House


Ptarmigan House


The Firs


The Old Post Office
Self Catering and Cottages

Blair Castle Woodland Lodges


Garrybank


The Firs Lodge


Vale of Atholl Country Cottages
Camping Caravan Hostel
Welcome to Blair Atholl Scotland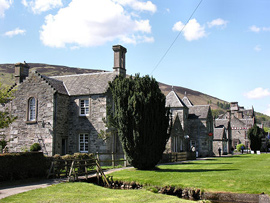 The Unspoiled Heart of Scotland
Welcome to the friendly, unspoiled heart of Scotland, with real hospitality, clear sparkling air, beautiful scenery, rich history, fine food, plenty to do - and helpful local people to make your holiday easy and fun. Forget about the congestion and queues - Blair Atholl has everything!
Spectacular Scenery
The River Garry rushes through the heart of Atholl like a silver thread linking all the villages and glens. The lively Atholl rivers combine with the mountains, hills and glens to create some of the finest scenery in Scotland, and the Atholl villages - Calvine, Blair Atholl, Bruar, Killiecrankie, and Struan - offer some of the finest hospitality in a natural, unspoiled setting.
Access to our Atholl scenery is easy - whether you like country roads, bicycle paths, waymarked trails, or tours guided and unguided. If you walk, you will discover plentiful wildlife and plants, and you may even see red or roe deer.
Rich History
From the Battle of Killiecrankie in 1689 to the Jacobite rebellions of the 18th century, this area has a rich history, much of it central to Scotland's history. Visitors can discover some of this history at Blair Castle and other local attractions and museums.
Accommodation in and around Blair Atholl
Price Guide - per person based on sharing room:

under $40 -
$41 - 70 -
more than $70
The Firs Lodge
Blair Atholl

More Information
Email Hotel
Price Range

Garrybank
Blair Atholl

More Information
Email Hotel
Price Range

The Old Post Office
Blair Atholl

More Information
Email Hotel
Price Range

Vale of Atholl Country Cottages Blair Atholl

More Information
Email Hotel
Price Range
Ptarmigan House
Blair Atholl

More Information
Email Hotel
Price Range

The River Tilt Park
Blair Atholl

More Information
Email Hotel
Price Range

Silver Birch
Blair Atholl

More Information
Email Hotel
Price Range

Blair Castle Woodland Lodges Blair Atholl

More Information
Email Hotel
Price Range
The Firs
Blair Atholl

More Information
Email Hotel
Price Range

Blair Castle Caravan Park Blair Atholl

More Information
Email Hotel
Price Range

Atholl Arms Hotel
Blair Atholl

More Information
Email Hotel
Price Range

Dalgreine Guest House
Blair Atholl

More Information
Email Hotel
Price Range