Welcome to Ardrossan Scotland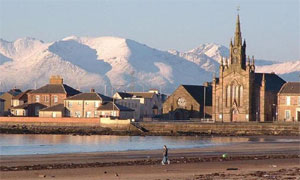 The coastal town of over 11000, Ardrossan, has its roots deep in history like much of the area and is distinguished by being one of the last towns to be granted Burgh status. One of the Three Towns, Ardossan shares its history with much of the county. The other two towns that make up Three Towns are Saltcoats and Stevenston. The three towns border each other in such a way that it seems one town.
Around 1140, "Cannon Hill" or Ardrossan castle was built by Simon de Morville. Ardrossan castle and its estate were in the possession of the Barclay family until the 1300s when Godfrey Barclay de Ardrossan passed away without an heir. The castle then went to the Eglinton family.
The historic past of Ardrossan Castle is violent and bloody. The castle was the site of the infamous "Wallace's Larder". William Wallace lured the English from the safety of the castle walls, slaughtering them and then tossing the bodies into the dungeon.
Seized by Cromwell in 1648, Ardrossan castle was effectively dismantled so Cromwell could send the stones to be used to build a fort in Ayr. Although the ruins still stand, the site is in a dangerous condition. Tourists often visit and explore the ruins.
Ardrossan became an important port in the 1700s and 1800s with the exporting of pig iron and coal to trading partners in the Americas and Europe. Shipbuilding quickly became an established industry and, as people migrated to this thriving area, the population grew. By 1950, all but one of the shipyards had closed with the last shipyard in Ardrossan closing in the 1980s.
As Ardrossan saw its industries close, it suffered from a recessionary period. In 2006 a regeneration project was begun in the area, with Ardrossan being promoted as "the Gateway to Arran". This project is ongoing and Ardrossan becoming a destination for tourists. In addition, the town is gaining a reputation of being a great seaside town to live in.

Accommodation in and around Ardrossan
Price Guide - per person based on sharing room:

under $40 -
$41 - 70 -
more than $70
Edenmore Guest House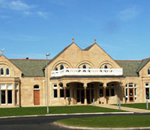 Situated in Ardrossan, Ayrshire, it is the Gateway to the West of Scotland including the Isle of Arran, Troon and the Royal Troon Golf Course, also an ideal base for Loch Lomond, Glasgow and Edinburgh.


More Information

Email Hotel

Price Range