Abington is a picturesque village in the Clyde Valley. Abington sits less than half a mile from the M74 motorway, at the southern edge of the Clyde Valley. Strategically important for the Romans, there is still evidence of forts and settlements in the area. Just north of the village are the earthworks of a late 12th century motte and bailey built by John, stepson of Baldwin the Fleming. For most people today's Abington is a service station on the M74, conveniently located at the point where Edinburgh-bound traffic leaves to follow the A702 through Biggar and West Linton.
Places to stay around Abington

Mount View Caravan Park


Stonehill Cottage
Welcome to Abington Scotland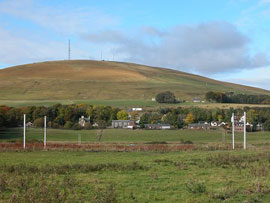 Abington itself is an attractive village focused on the Abington Hotel on one side of Carlisle Road and the village shop on the other. Other local services include fire and police stations and a bank. Hidden away up a woodland path from the centre of the village is Glencaple Parish Church, a beautiful little gem of grey and brown stone edged in red. When its foundation stone was laid on 9 August 1898 its location must have been quietly idyllic. Today it lies close to the M74, though the traffic isn't nearly as intrusive as you might expect.
Its role as a gateway to Scotland is one Abington has fulfilled for two thousand years or more: today's A702 follows the line of a road the Romans built from the River Clyde here to their fort at Musselburgh.
Other evidence of ancient occupation comes from the hill forts overlooking this stretch of the Clyde Valley, and from the motte and bailey near the services.

Accommodation in and around Abington
Price Guide - per person based on sharing room:

under $40 -
$41 - 70 -
more than $70
Mount View Caravan Park
Situated on the outskirts of the village of Abington, close to the River Clyde, and only 4 miles from its source.
Mount View Caravan Park is a five minute walk from the quaint village of Abington.
More Information
Email Hotel
Price Range

Stonehill Cottage
A traditional stone-built cottage, renovated to a high standard, with an enclosed garden and a south facing conservatory giving a panoramic view of the surrounding countryside.
More Information
Email Hotel
Price Range