Search Kruger park accommodation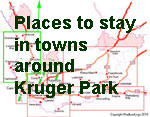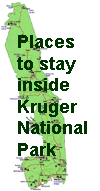 Luxury Kruger Safari
Travel Guide to

Kruger South Africa


Mozambique


Zanzibar


Madagascar


Namibia


Victoria Falls


Botswana


Cruises
Bateleur Camp Kruger National Park
(South Africa National Parks)
Bateleur Camp enquiries and reservations: bookkruger@madbookings.com
Bateleur Camp "Soar with the eagles"

This delightful camp is situated on the banks of the Mashokwe spruit approximately 40 km south west of Shingwedzi in the beautiful northern Mopane/Woodland savannah of the Kruger National Park.

Named after the majestic eagle, Bateleur, being the oldest and the smallest of the bushveld camps, offers a unique atmosphere and superb game viewing.

One of the many features Bateleur offers is a game-viewing hide that overlooks a waterhole just outside the camp.

Two dams, Silwervis and Rooibosrand, are within close range of the camp and are restricted to the residents of Bateleur - good to know as there will never be a traffic jam even if the camp is full.




Bateleur Camp Accommodation
Guest Cottages:
• 3 x 6-bed cottages and 4 x 4-bed cottages, all fully equipped.
• Many of the bedrooms have en-suite bathrooms and each bedroom is either air-conditioned or has a ceiling fan. Kitchens are fully equipped and have microwave ovens.
• All accommodation units are serviced daily and supplied with bedding, towels and soap. Each unit has its own braai (barbecue) facilities and wood can be bought from the mini shop at reception.
• Each unit has its own electricity points and TVs with SABC 1, 2, 3 and e-TV channels.
Bateleur Bushveld Camp is the best equipped of the bushveld camps in the Kruger National Park and is suited for those guests that are looking for a luxury bushveld experience.
Bateleur Camp Facilities and Acuities
Activities:
• Guided Bush Walks
• Game Drives (in the company of trained field guides)
Facilities:
- Information at Reception
- Public Telephones
- Mini shop - stocks basic items such as firewood, ice and Telkom phone cards, there are no foodstuffs such as meat available.
- Conference Facilities- for 30 persons in lecture configuration.
- Available equipment includes projection screen, white board, TV with DSTV, video recorder, overhead projector and slide projector.
- Boma Braai with DSTV, please supply own food and drinks - we will see to the rest.
5 animals to look out for at Bateleur Camp:
1. Bateleur Eagle
2. Leopard
3. Hippo
4. White Rhino
5. Blue Wildebeest

How to get there:
Travel routes and times from central Gauteng
Phalaborwa Gate:
Take the N1 toll-road to Polokwane (Pietersburg). 40 km before Polokwane turn right onto the R71 and head for Tzaneen. After Tzaneen, head towards Phalaborwa and the gate. Allow between 6 to 7 hours for the trip to the gate. Bateleur Bushveld Camp is 140 km away from the gate. Allow about 4 hours for the drive to the bush camp; however if you want to enjoy the game viewing possibilities give yourself more time!

Vital Information:
Warnings:
Please ensure that your stay is happy and safe by taking note of a few simple warnings. You will be sharing your stay with many exciting and unusual creatures but without knowledge some of them could be dangerous:
- Bats, Spiders, Snakes, Scorpions, Malaria Zone
If you must walk around at night please DO NOT DO SO WITHOUT A TORCH.
Remember: by feeding any wildlife, you are signing their death warrant as they become aggressive!
Climate:
Kruger is in a summer rainfall area. Such precipitation is usually convectional and can result in heavy downpours. The summer months (October to April) are hot and often balmy. Winters are warm and mild, although visitors going on night-drives will require warm clothing.
Day Visitors:
Only residents are allowed in the camp and on the access roads to Bateleur Bush Camp. Bateleur Bush Camp is situated within easy reach of the larger rest camps so that guests can make use of the larger camps amenities if needed.

Flora and Fauna
Mammals:
Silwervis Dam offers sighting of hippo, crocodile, bushbuck, nyala and you will perhaps be rewarded by a glimpse of the spotted prince of cats - a leopard.
The nearby Nshawu pans are an excellent area to see game as there are some open plains that host species such as blue wildebeest, Burchell's zebra, buffalo and the rarer tsessebe.
Black-backed jackal and caracal are some of the smaller more unusual species to look out for.
Vegetation:
Natal mahogany, brack thorn mustard tree, sausage tree, apple leaf, mixed bushwillow, silver cluster leaf, round leafed teak, buffalothorn, sycamore fig, magic guarri, marula, jackalberry, leadwood, mopane, wilddate palm, weeping boer bean, reeds and mixed acacias can all be found in and around the Bateleur region.

Bateleur Camp enquiries and reservations: bookkruger@madbookings.com