Places to stay Gretna
Hotels and Inns

Hunters Lodge Hotel


Smiths at Gretna Green


Solway Lodge Hotel


The Gables Hotel
Bed & Breakfast - Guesthouse

Angus House


Anvil View Guest House


Barrasgate House B&B


Briar Lea House


Kirkcroft Guest House

Self Catering and Cottages

Bruce Suite


Cormorant Cottage


Craigburn Farmhouse


Dunlin Cottage


Heron Cottage


Johnstone Suite
Camping Caravan Hostel
Welcome to Gretna Scotland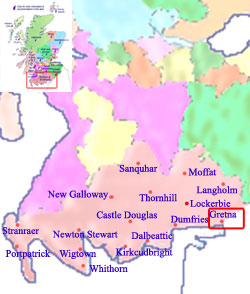 Gretna is a town in Dumfries and Galloway, Scotland. Because they are near the Anglo-Scottish border, nearby Gretna Green is historically linked to weddings because of the more liberal marriage laws in Scotland. "Gretna" has become a term for a place for quick, easy marriages, Every year over 4,000 weddings take place in Gretna and Gretna Green, which amounts to around one in eight of all weddings that take place in Scotland. And there seems every chance that the twin settlements are between them home to rather more than one in eight of all the anvils remaining in Scotland.
England in the early 1700s was facing serious social problems caused by large numbers of irregular marriages taking place around the country. The solution was an Act of Parliament introduced in 1754 by Lord Hardwicke. This restricted the number of places in which marriages could take place; it tightened up the regulations on recording of marriages; and, most significantly, it outlawed marriages in which either bride or groom were under 21 unless both sets of parents or guardians consented.
But the 1754 Act did not apply to Scotland. Here it remained possible for anyone of 16 or over to get married with or without their parents' consent and marriages could be carried out without prior notice and in a wide range of venues, without need for a clergyman to officiate. Gretna Green happened to be the first place you reached in Scotland when following the main route north from Carlisle, and so it became a centre for runaway marriages. These were often carried out by the village blacksmith as the tradesman of most respect in the community. And they were often carried out with a sense of urgency driven by the knowledge that one or other set of parents was in hot pursuit.
The act of marriage came to be marked by the striking of his anvil by the blacksmith. This could be seen as symbolising the joining together of two pieces of metal in the heat of the blacksmith's fire. Like them, the couples involved were joined together in the heat of the moment and bound together for eternity.
Accommodation in and around Gretna
Price Guide - per person based on sharing room:

under $40 -
$41 - 70 -
more than $70
Anvil View Guest House Gretna Green
Luxury Bed and Breakfast accommodation situated in the heart of romantic Gretna Green. The Anvil View Guest House is two minutes walking distance from the World Famous Blacksmiths Shop and Anvil Hall.
More Information
Email Hotel
Price Range

Angus House
Gretna Green
Terraced house offering
en-suite accommodation,
in quiet residential part of Gretna, 100 yards to registrar's office in centre of village. Good base for exploring South West Scotland.
More Information
Email Hotel
Price Range

The Gables Hotel
Gretna Green
Built around the turn of
the century, The Gables Hotel is a a beautiful,
grade-II listed property
is steeped in history and has become one of the leading wedding venue hotels in Gretna.
More Information
Email Hotel
Price Range

Solway Lodge Hotel
Gretna Green
As one of the leading wedding hotels in Gretna you are assured a warm welcome and an enjoyable stay with us. The Solway Lodge is a family run hotel has the perfect accommodation for you.
More Information
Email Hotel
Price Range
Hunters Lodge Hotel
Gretna Green
Situated in the heart of Gretna, Hunters Lodge Hotel is also the closest hotel to the world famous Gretna Registration Office, and close to Anvil Hall. The famous "Blacksmiths" is about 5 minutes drive away.
More Information
Email Hotel
Price Range

Smiths at Gretna Green
Gretna Green
Romantic boutique hotel located at the gateway into Scotland, Smiths is a luxury hotel in Scotland and perfect for the romantic getaway. All the sophistication of a city centre hotel, and just the perfect place to stay.
More Information
Email Hotel
Price Range

Dunlin Cottage
Gretna Green
Our delightful traditional sandstone cottages were built over 150 years ago, as fishermen's cottages. They have been tastefully renovated to a high standard, and are very well equipped.
More Information
Email Hotel
Price Range

Bruce Suite
Gretna Green
A luxury apartment on the first floor of Cove House with views over the park across the Solway Firth to the Cumberland Hills beyond. This suite is a tasteful blend of old house character with modern amenities.
More Information
Email Hotel
Price Range
Braids Caravan Park
Gretna Green
If visiting Gretna, Gretna Green or are looking to explore Dumfries & Galloway in South Scotland, Braids Caravan Park provides the ideal base to discover many interesting features of the area.
More Information
Email Hotel
Price Range

Briar Lea House
Gretna Green
Set in its own grounds in the northern border Regions of Cumbria. Briar Lea Guest House is an Ideal Base for exploring the Historic City of Carlisle, The Scottish Borders, Gretna Green and Hadrian's Wall.
More Information
Email Hotel
Price Range

Barrasgate House B&B
Gretna Green
A traditional friendly welcome awaits you at our family home, Barrasgate House Bed and Breakfast, Gretna Green, a
converted farm croft
re-built at the turn of the
nineteenth century.
More Information
Email Hotel
Price Range

Craigburn Farmhouse
near Gretna
Geoffrey and Louise offer a warm Cumbrian welcome to all our guests. Geoffrey and their son Jonathan run the 150 acre sheep farm which is the idyllic countryside setting for our Guest House and Restaurant.
More Information
Email Hotel
Price Range
Kirkcroft Guest House
Gretna Green
Sited only 3 minutes walk from the railway station and across the road from Gretna Hall and 4 minutes walk from The World Famous Blacksmith Shop, with public transport stopping outside the house.
More Information
Email Hotel
Price Range

Cormorant Cottage
Gretna Green
Self catering cottages near Gretna in a superb location on the Solway shore, outstanding views, ideal for a restful holiday, birdwatching, touring the Scottish and English borders, or a honeymoon!
More Information
Email Hotel
Price Range

Heron Cottage
Gretna Green
Situated on a tidal estuary, from the lounge window of your cottage you can watch the ever-changing vista of sky, sea and wildlife. The cottages are named after the birds that can be seen on the estuary at low tide.
More Information
Email Hotel
Price Range

Johnstone Suite
Gretna Green
The Johnstone Suite is a luxury modern apartment
on the second floor of
Cove House with stunning views over the park
across the Solway Firth
to the Cumberland Hills beyond.
More Information
Email Hotel
Price Range