Places to stay
Banff
Hotels and Inns
Bed & Breakfast Guesthouses

Belvedere


Bryden


Carmelite House Hotel


Gardenia House


Trinity And Alvah Manse
Self Catering and Cottages

6 Turnkeys


Badger Cottage


Culbirnie


Dallachy Cottages


St Brandon House Country Cottages


The Lodge Bungalow
Camping Caravan Hostel

Banff Links Caravan Park


Myrus Holiday Park


Wester Bonnyton Farm Holiday Caravan
Welcome to Banff Scotland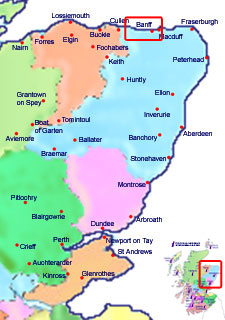 Banff started life as a port on the west side of the mouth of the River Deveron in the 1100s, and there is evidence that King Malcolm IV stayed here for at least part of 1163. However the town's harbour suffered from silting in the 1800s, leaving Macduff, on the east side of Banff Bay, to take up the role of principal commercial port along this stretch of coast.
Banff (Gaelic Banbh) is a town in the Banff and Buchan area of Aberdeenshire, Scotland. Banff is situated on Banff Bay and faces the town of Macduff across the estuary of the River Deveron. Banff is a former burgh, and until 1975 was the county town of Banffshire.
The modern-day town has a golf course (Duff House Royal), beaches, and was home to the Colleonard Sculpture Park which is now relocated in Aviemore.
Festival of the Visual Arts is an annual festival of weekend-long events and attractions in both Banff and Macduff. It runs over the bank holiday weekend at the end of May each year.
The townscape, which is one of the best-preserved in Scotland, has many historic buildings, including fragments of the former royal Banff Castle, a pre-Reformation market cross, a fine tolbooth, many vernacular townhouses, and a museum donated by Andrew Carnegie. Close by is Duff House, designed by William Adam in 1730, and one of Scotland's finest classical houses. It is open to the public as an out-station of the National Gallery of Scotland.
Also open to the public are the Wrack Woods, due south of Duff House. In the woods, there is an old ice house, a mausoleum, and a wonderful walk to one of the most beautiful secluded spots in the area. The place is known as the Bridge of Alvah, and a single-arch bridge spans the river Deveron. The river Deveron is known for its great fishing for salmon and trout.

Accommodation in and around Banff
Price Guide - per person based on sharing room:

under $40 -
$41 - 70 -
more than $70
The Lodge Bungalow
Banff
Set in private gardens on the edge of town with great views over the Deveron valley. Only a short walk to the town centre, Duff House, Duff House Golf Club, Banff swimming pool and lots more. The Lodge Bungalow falls part of the Fife Lodge Hotel.
More Information
Email Hotel
Price Range

Gardenia House
Banff
Welcome to Gardenia Guest House offering quality bed and breakfast accommodation with friendly personal service.
We have been awarded
3-Star Rating by Visit Scotland, the Scottish Tourist Board.
More Information
Email Hotel
Price Range

Trinity And Alvah Manse Banff
Welcome to the Trinity Manse the family run 3 star Guest House. We give a very warm welcome to all our guests at Trinity Manse Guest House, whether your visit to Banff is for business or pleasure, and we look forward to meeting you and showing you into our home.
More Information
Email Hotel
Price Range

Badger Cottage
Banff
Lovely cottage peacefully situated amid lawns and woodland that slopes down to the River Deveron. It is an idyllic location very popular with country-lovers, fishermen and holiday-makers who wish to enjoy peace and tranquility after a day at the beach.
More Information
Email Hotel
Price Range
Wester Bonnyton Farm Holiday Caravan Banff
Wester Bonnyton caravan & camping park offers countryside holiday accommodation at Gamrie, two miles away from Macduff, near Banff, in North East Scotland.It is a peaceful, tranquil camping site overlooking the Moray Firth sea.
More Information
Email Hotel
Price Range

Myrus Holiday Park
Banff
Welcome to Myrus Caravan Site, Aberdeenshire - a quiet, privately owned park in the North East of Scotland. This is a great place to relax and is also a superb base for exploring the many attractions of the beautiful Moray Firth, Aberdeenshire and Banff and Buchan area and coastline.
More Information
Email Hotel
Price Range

Myrus Holiday Park Self Catering Banff
Set in lovely surroundings, our caravan park has a number of static holiday caravans which can accommodate up to 6 people. Our static caravans are luxury holiday homes you will feel at home in from the moment you step through the door.
More Information
Email Hotel
Price Range

Dallachy Cottages
Banff
Dallachy Farm Holiday Cottages lie between the quaint fishing villages of Whitehills and Portsoy in Aberdeenshire, Scotland right on the North East coast. The two traditional cottages are beautifully presented having being redeveloped recently to a very high standard.
More Information
Email Hotel
Price Range
Culbirnie
Banff
Traditional stone-built farmhouse on working farm, 6 miles (10kms) from Banff.
Much to see and do in the area, including exploring the coastline, with its beaches, cliffs and historic harbours, or visiting castles and gardens, golf, fishing, and more all available nearby.
More Information
Email Hotel
Price Range

Bryden
Banff
Bryden is set in tranquil surroundings amidst panoramic views of the Moray Firth and miles of rolling farmland. A peaceful location yet within easy reach of quaint fishing villages, the Whisky and Castle Trails.
More Information
Email Hotel
Price Range

6 Turnkeys
Banff
6 Turnkeys is a property created as part of the development of the former jail and includes character features such as the original stonework and turret. This spacious 2 bedroom property is in the heart of Banff.
More Information
Email Hotel
Price Range

Fife Lodge Hotel
Banff
Welcome to the Fife Lodge Hotel.
The Fife Lodge Hotel is the perfect hotel to stay for visitors to the North East of Scotland for Golf, Fishing, Walking, Castles, Whisky and Adventure or just a quiet break.
More Information
Email Hotel
Price Range
St Brandon House Country Cottages Banff
This truly is a hidden corner of Scotland where the pace of life is slow, air refreshing and food delicious, with a good nights sleep assured, these historic self-catering cottages make for the perfect holiday recipe. These self-catering cottages are idyllically placed.
More Information
Email Hotel
Price Range

Carmelite House Hotel
Banff
Carmelite House Hotel is a small friendly family run hotel situated in the centre of the ancient town of Banff. The building dates back to 1753 and is of local historic interest. Comfortable accommodation and good home cooking. Children are welcome.
More Information
Email Hotel
Price Range

Banff Links Caravan Park Banff
Situated on the outskirts of Banff on the north east coastal trail, one of the sunniest driest towns in Scotland. Next to the caravan site is a well equipped newly installed children's play park. This popular park is set close to the large sandy beach of Banff bay.
More Information
Email Hotel
Price Range

Belvedere
Banff
Belvedere' is a traditional fishermans cottage situated in a quiet location on the seafront at Whitehills, near Banff. Accommodation sleeps 4 and consists of a lounge, dining/kitchen, bathroom with shower, one double bedroom and one twin upstairs.
More Information
Email Hotel
Price Range
Many of the nearby villages also contribute to tourism in the area; in particular Gardenstown and Pennan. Banff's Tourist Information Centre opens during the summer and can be found by St Mary's car park adjacent ot St Mary's Parish Church on Banff's High Street. Their audio tours provide an insight into the town, its history and architecture.
Though no longer a commercial port, the harbour has been subject to redevelopment during the latter half of 2006 and now has a marina which serves leisure traffic and small fishing boats, the newly constructed marina is only accessible +3hrs mlw due to the heavy and rapid siltation.

Banff and Macduff don't quite merge. They are separated by the valley of the River Deveron. This unpredictable river was only finally tamed by the seven arched bridge completed in 1799 by John Smeaton, whose other claims to fame included the Eddystone Lighthouse. An earlier bridge had been built here in 1765, but it was swept away in 1768. The old ferry the earlier bridge had replaced was brought back into use, until it was lost in a flood in 1773.

Within the Deveron Valley lies Duff House, designed by William Adam, built between 1735 and 1740, and widely thought to be one of Britain's finest Georgian houses. Duff House was built for William Braco, who became Earl of Fife in 1759.
The story of Duff House did not get off to a happy start. Disputes over its building reached such an intensity that William Braco never lived here. So acrimoniously did this end that it is said that he never even looked at the completed house, having his carriage blinds drawn whenever he passed by. Which, if true, is a shame, because he missed something well worth seeing.
These days Duff House serves as part of the National Gallery of Scotland and houses a range of art treasures and superbly furnished rooms. It also hosts a programme of artistic events and is used as a base for artists and writers.
Banff itself contains a variety of fascinating architecture in a number of contrasting styles. Georgian architecture abounds in the "upper town", while down towards the harbour there are examples of more functional styles.