Some of the top places to visit in The Philippines

Cebu


Carmarines Sur


Manila


Baguio City


Davao City


Boracay

Cagayan de Oro


Zambales


Bohol

Puerto Princes City

Philippines welcome to our isles.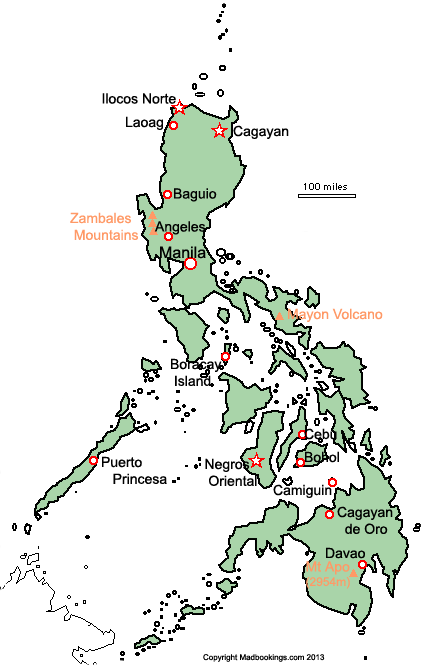 The Philippines are made up of 7,107 islands. Some have grown into cities. Some are the epitome of tropical dreams. Some are just long enough to lay down on and get a tan.
Big. Small. Sandy. Sunny. Relaxing. Exotic. Beautiful. Our little clutch of islands make for one long stretch of beach – more than 15,500 kilometers. Here, no one is more than two hours away from a beach-side lounge chair — which explains why everybody knows how to smile and have fun!
If you want the bright & sunny, tropical glory of the Philippines, plan your trip between the summer months of March and May. It will be hot and dry, but that's what beaches, sunblock and straw hats are for!
Want things a little bit cooler? Then November to February are best for you.
We'd say avoid the rainy season from June to October, but a good traveler knows that off-peak season means lower rates in airfares, hotels, resorts — and maybe the beer too. Just be forewarned that the months between July and September are characterized by typhoons.
Some parts of the country such as Cebu and Davao, are warm and comfortable in all seasons and can be visited throughout the year.
Thanks to the Filipino love of food, visitors won't run out of options for their meals.
You get a buffet of options – first class restaurants with world-class chefs, world cuisine, family-style dining places, simple grilleries, "carinderias", cafeterias and food court stalls. "Halal' and kosher food are available.